Dear reader: This article contains links to products and services that I may be compensated for, at no extra cost to you.
October is generally considered the first month of autumn in Taipei and Taiwan; other guides will tell you September, but September is still very much summer in Taiwan. These temperatures usually ease up in Taipei in early October, bringing in gorgeous, pleasantly warm days and often clear, blue skies. 'Tis the season for hiking!
In the south of Taiwan in October, it's still practically summer, but minus the rain. While late-season typhoons are not unheard of in October in Taiwan, the month otherwise is a contender for the best month of the year to visit Taiwan weather-wise.
This makes October a great month for general travel in Taiwan, and you can even cap it off with some wild Halloween parties in Taipei at the end of the month. For more basic information about planning your trip, see my detailed Taiwan travel guide.
Please Note: foreign tourists are not presently permitted to enter Taiwan, but I will update this space if anything changes leading before October 2021.
I highly recommend using Klook to find travel deals and discounts in Taiwan. Use this link to sign up and you'll get TDW100 off your first activity!
Taipei Weather in October
Summer temperatures finally start waning toward the end of September, ushering in gorgeous Taipei weather in October. The average high temperature in Taipei in October is 27°C (81°F), and the average low is 22°C (72°F).
Taipei receives an average of 150mm of precipitation in October, which is around half of summer levels, but still twice as much as each of the following three months. Part of this is because late-season typhoons can bring additional short bouts of heavy rain. October is generally the end of the typhoon season in Taiwan, but a typhoon in November is not unheard of. Some major typhoons to strike Taiwan in October include Typhoon Longwang (2005) and Typhoon Mitag (2019).
Still, October is one of the driest months of the year in Taipei, with an average of only 12 days with rain in the month, the lowest of the year, along with November and December.
October is probably my single favorite month of the year in Taipei weather-wise. Typical Taipei October weather is warm and comfortable, skies are often blue, and going outside just feels good. See here for my full guide to when to visit Taipei.
What to Wear in Taipei in October
How to dress in October in Taipei is going to vary by what you are used to. Locals and people from countries in Asia with similar climates tend to start dressing for cooler weather in October. This might include jeans and a light jacket or hoodie, especially for going out in the evening.
If you're from a cooler climate like me (the prairies of Canada), though, you will most likely still be wearing shorts and a T-shirt in Taipei's October weather. I don't usually break my summer clothing choices until sometime in November.
– Find out where to stay in Taipei, or search for the best Taipei hotel deals.

– Also decide whether to get a Taipei Unlimited Fun Pass by reading my Fun Pass review.
Taiwan Weather in October
In most of Northern Taiwan, including Yilan County and Taroko Gorge in Hualien County, you can expect pretty much the same weather as Taipei in October.
However, venture further south, and you'll find that summer still hasn't quite departed. Taichung and Tainan still have an average high of 30°C (86°F) and 31°C (89°F), respectively, in October. What's even better, rain in the south of Taiwan is rare in October; Taichung only gets an average of 16mm while Tainan gets 30mm. That means only a handful of days with rain per month.
In other words, the weather in Taiwan in October is about as close as you could get to ideal for traveling around. It still feels practically like summer in Taiwan, but not overbearingly so like in real summer, and with substantially less rain.
Sun Moon Lake is usually a few degrees cooler than nearby Taichung, and is gorgeous to visit in October. At higher altitude resorts like Cingjing Farm or Alishan, the temperature can go down to the mid-teens Celsius (around 60°F) in the early morning.
What to wear in Taiwan in October
For Northern Taiwan, you'll want to pack some autumn clothing, including a hoodie or light jacket for evenings, but if you're sticking mainly to the south of Taiwan, you'll still be dressing like it's summer. Don't forget your bathing suit, as beach season is still on!
You coldest you're likely to feel on your trip is when you're standing around before dawn at Alishan waiting for that famous sunrise, so do bring a few layers if you're planning to do that!
There's barely a need to dress for rain in October in most of Taiwan, with the exception of Taipei and the north.
Taipei in October: Best Things to Do
With such lovely weather in October in Taipei, you're going to want to be outside a lot. October is perfect for city parks like Da'An Forest Park, Elephant Mountain (for those postcard Taipei views) and other hiking trails in Taipei.
It's also great for exploring atmospheric neighborhoods begging to be explored, like Ximending, Dadaocheng, and Beitou Thermal Valley.
For the main sights in the city, see my recommended Taipei itinerary for 4 days and my 50 favorite things to do in Taipei. I've also got this comprehensive guide to Taipei's best night markets.
On Yangmingshan, the dormant volcano massif in Taipei and New Taipei City, autumn colors usually start appearing in mid- to late-October. Silvergrass also begins painting the hillsides gray by the end of the month, but November is usually the prime time to see this natural spectacle.
October 10 is the National Day of the Republic of China (10/10 Day or Double Ten Day) and a national holiday. Often incorrectly described (even by locals) as "Taiwan's birthday", the day commemorates the Wuchang Uprising in China, which eventually led to the establishment of the Republic of China.
In 2021, Double Ten Day falls on a Sunday, but the government is giving people a day off on Monday the 11th to make up for it. This is important to note because hotels and trains fill up quickly on long weekends in Taiwan. The day is celebrated with a ceremony at the Presidential Office Building in Taipei; don't go out of your way for it.
On the night of Saturday, October 2, don't miss Taipei's Nuit Blanche. 2021 will be the 6th time that Taipei hosts this unique all-night arts festival which originated in France. Make sure to check in on the page in case the 2021 event is canceled.
Some other typical Taipei October events include the Taipei Jazz Festival, taking place at venues throughout the city in October, and the Digital Arts Festival, which last year was held at the Bottle Cap Factory Nangang from October 1 to 15. As with all major events in 2021, expect possible cancelations.
For one month beginning on October 16, Beitou Hot Spring Museum usually hosts its anniversary event, which includes a variety of performances, exhibits, and other activities. Late October is also the first point in the season when you might start thinking about getting into the hot springs at Beitou. See my full guide to Beitou for the best ones.
In Mid-October, Chiang Kai-Shek Memorial hall usually hosts the annual Taipei Hakka Yimin festival, highlighting Taiwan's Hakka culture. The 2021 Hakka Yimin Festival is slated to be held October 23 to 25.
To learn more about the Hakka people, read my guide to Miaoli, Taiwan.
Halloween is slowly becoming a thing in Taiwan; in the past it was nothing more than an hour-long activity in kindergartens. For visitors to Taipei with young kids, there are usually Halloween events held in Shilin District, at the Taipei Children's Amusement Park, and at the Taipei Zoo (a month-long event called Zooloween). Since Halloween is on a Sunday in 2021, you can expect most events (if there are any) to take place on that day.
For us grown-ups, a number of Taipei night clubs throw some pretty wild parties on Halloween, but the party of all parties is without a doubt Resurrected. The venue varies, but in recent years it has been held at an awesome outdoor venue on Tiger Mountain. Tickets are usually available from iBon machines in all convenience stores. It remains to be seen whether the event will be held in 2021.
Taiwan in October: Best Places to Visit
October weather in Taiwan is about as good as it gets, which means it's a perfect month for planning a round-island trip. You can do so by following my Taiwan itinerary for 1-3 weeks or my recommended Taiwan itinerary with kids, or get more ideas here on what to do in Taiwan.
October is an ideal month to visit Taichung, with warm weather and very low chance of rain. Make sure to include Rainbow Village, the Gaomei Wetlands, or numerous day trips from the city on your Taichung itinerary.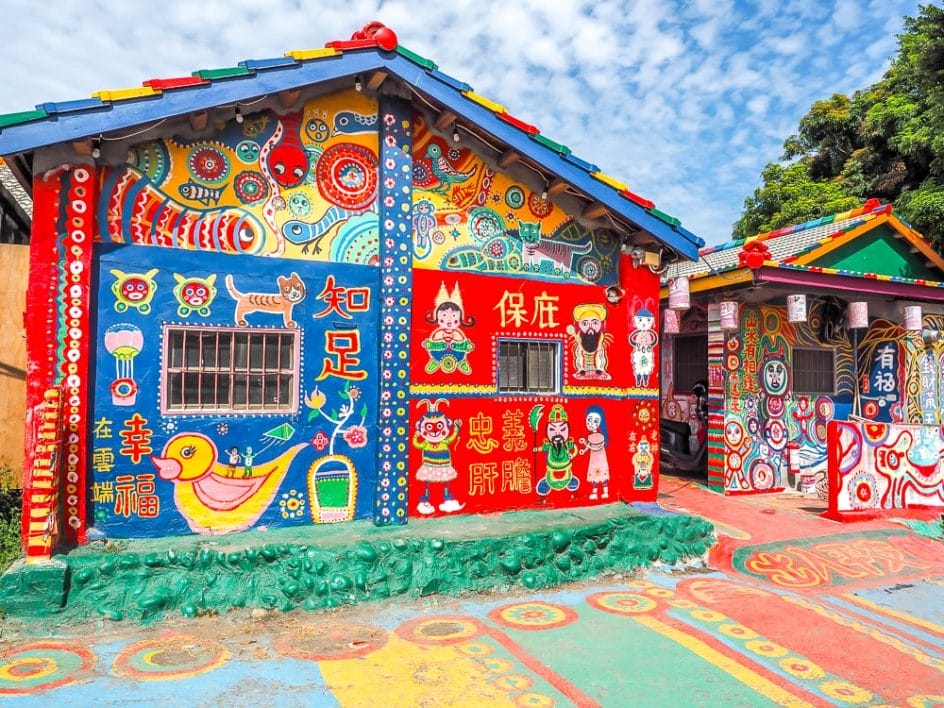 Don't miss Sun Moon Lake, which is lovely at this time, and consider getting a Sun Moon Lake Pass or read which Sun Moon Lake tours I recommend. Also keep an eye out for the Sun Moon Lake Fireworks Festival; the 2021 dates have yet to be announced, but it should be in October.
Yilan County and Hualien are also great to explore at this time, but don't visit Taroko Gorge during or after heavy rain, especially those late-season typhoons that sometimes strike in October. See here for more fun things to do in Hualien.
Tainan, Kaohsiung, and Pingtung (including Kenting National Park) are still summery in October, while October is probably the last month I'd consider visiting the offshore islands like Green Island, Orchid Island, and Penghu, as they tend to get windy and chilly in winter in Taiwan, with many services closing for the season.
High mountain resorts like Cingjing Farm or Alishan are still perfectly fine for visiting in October, but do expect cold weather in the early morning. October is also great for hiking all around the island. For autumn colors, though, you'll need to wait until November and December for the best colors to come out in most places.
The out-of-this-world Burning of the Wang Yeh Boats in Donggang, Pingtung County happens once every three years, usually in October. The next event will happen from October 24-31, 2021.
Conclusion: Is October a Good Time to Visit Taiwan?
October is quite possibly my favorite month of the year to be in Taiwan. Even Taipei, which is notorious for having kind of crappy weather, is undeniably lovely for most of October. Meanwhile in the south of Taiwan, it's like summer minus the rain.
If you love spending long hours outside in warm (not overbearingly hot) weather, enjoy hiking, cycling, and even some time on the beach, October in Taiwan is simply awesome, but do remember there is still a small chance of encountering a late-season typhoon.
Also read: