Dear reader: This article contains links to products and services that I may be compensated for, at no extra cost to you.
Is May a good time to visit Taiwan? For starters, May is the peak of spring in Taiwan, with rising temperatures foreshadowing the summer heat that is just around the corner.
However, the Plum Rain monsoon usually arrives in Taipei in the first half of May, bringing moderate rain for days on end. The rains move south from then, usually not reaching the south of Taiwan until late May or early June. If you aren't a fan or rain or gray days, you may want to avoid visiting Taipei in May.
Having said that, there are a decent number of Taipei events in May. It is even possible to see fireflies right in Taipei in May, while gorgeous early-summer weather in other parts of the country is ideal for taking in Taiwan's top attractions. It is also one of the best months to visit the offshore islands, so consider adding Penghu or Orchid Island to your Taiwan itinerary, both which feature great festivals in May.
To see how many compares to other months of the year, see my guide to the best months to visit Taiwan. Also read my general advice for visiting Taiwan here.
– Here are my recommended hotels and hostels in Taipei.

– Use Klook to find great deals and discounts on various travel services and tickets in Taiwan. Sign up with my referral link to get a TWD100 voucher.

– Is a Taipei Unlimited Pass worth the money? Find out in my detailed review.
Taipei Weather in May
Also read: The Best Month to Visit Taipei
Summer is surely approaching in the month of May in Taipei, but the most intense heat has yet to arrive. The average high for May is 29°C (84°F), while the average low is 22°C (72°F).
The most important thing to note about the weather in Taipei in May is the arrival of the plum rain season. Named so because it coincides with the ripening of plums in Southern China, the East Asian Rainy Season usually hits Taipei sometime around the first half of May and can last into June.
When plum rains arrive, what usually happens is that it rains pretty much every day, sometimes for 1-2 weeks in a row. The rain tends to be heavier than winter drizzles in Taipei, but not as wild as a summer typhoon. The rains are not as intense or predictable as, for example, the Southeast Asian or Indian monsoons. I would call it a "mini-monsoon". Some years, it's barely even noticeable, but once in a while, the plum rains are heavy enough to cause minor flooding in some areas and can really disrupt travel plans.
It isn't necessarily always raining in Taipei in May and June, and sometimes the rains come later than usual (for example in 2018 they didn't arrive until June). According to the average numbers, there are still 16 days every May WITHOUT rain, so it is still very possible to have gorgeous sunny weather in Taipei in May.
It rains an average of 235mm in Taipei in May, which is a big jump from April (180mm) and the winter months, but still not as much as in June (325mm) or the summer typhoon season.
Like in most months in Taipei and Taiwan, late afternoon is the most common time for rain to fall.
What to Wear in Taipei in May
Because Taipei is getting quite warm by May, you can pretty much pack summer clothes. However, due to the increased likelihood of rain, you'll want to bring appropriate rain gear. Because of the higher temperatures, the plum rains don't make you feel cold like winter rain in Taipei does; they are more like a mild annoyance than anything.
Umbrellas are a necessity at this time, but even if you don't bring one from home, you can buy them from any convenience store for TWD 100-200 (USD3-6). Also, every time there's a downpour, makeshift umbrella stands seem to magically appear all over the city.
Taiwan Weather in May
In the major cities & counties south of Taipei, such as Yilan, Taichung, Tainan, and Kaohsiung, summer has already arrived by May. It will still get a few degrees hotter in the coming months, but it's practically there. In Tainan, the average high temperature in May is 31°C (88°F) and the average low is 24°C (75°F).
The plum rains don't affect the south of Taiwan until later than in Taipei and the north. Usually the rain starts increasing in late May or early June. In Tainan the average precipitation in May is 175mm, which is more than double the figure from April (80mm), but still less than half what it will be in June (370mm).
What to wear in Taiwan in May
For traveling around the lowland areas and major cities of Taiwan in May, you can pretty much dress for summer. Think comfy shorts/skirts, T-shirts, a hat, sunglasses and lots of sunscreen.
If you're coming toward the end of May, you might get some rain, but if you're lucky, the plum rains won't even arrive in the center and south of Taiwan until June. It's still best to prepare for it just in case. A decent foldable umbrella is a smart thing to carry around, especially when venturing from the city, hiking, and so on.
Taipei in May: Best Things to Do
With summer just around the corner, May is a great month for exploring Taipei on foot and soaking up the early summer vibes. See my top five favorite Taipei neighborhoods in this article on the best things to do in Taipei (skip to #31-35), or feel free to consult my recommended Taipei itinerary for planning your trip.
Taipei's parks and biking trails come alive as people come out to enjoy the early summer sun. On Yangmingshan, the calla lilies (see cover photo of this article) should be in full bloom throughout May at Zhuzihu, which is really a sight to behold.
In the underground art scene, head to Treasure Hill, a vibrant arts community housed in a military veterans' village by the riverside, for the annual Treasure Hill Light Festival. The event usually takes place sometime in May.
The Urban Nomad Film Festival usually begins in April and continues on into the first half of May.
On the 14th day of the third lunar month (May 3, 2023), the eve of Baosheng Emperor's birthday, Bao An Temple puts on its annual parade.
In late May, fireflies can be seen in Da'An Park, Muzha Park, and Rongxing Park. The best time to see them is from 6-8 p.m. on non-rainy days.
If the rain gets bad, there are plenty of things to do indoors in Taipei, such as the National Palace Museum, doing KTV (karaoke) or MTV in Ximending, visiting cat cafes, or checking one of the Taipei's many excellent art galleries.
Taiwan in May: Best Places to Visit
With near summer-like conditions, and lower chance of rain in most places in Central and Southern Taiwan (compared to Taipei), pretty much anywhere in Taiwan is great to visit in May.
Weather should be fine at Taroko Gorge (but do avoid visiting during or after heavy rains, for safety reasons) and other parts of Hualien, as well as Sun Moon Lake. Winter is over in the high mountain resorts such as Alishan and Cingjing Farm, but can still be quite cold in the early morning due to the elevation.
It's a great month to head to the beaches around Taipei or pretty much anywhere in Taiwan; the weather is perfect, and the summer crowds have yet to show up (most locals don't go to the beach until it's really, really hot).
In my opinion, May and June are the best months of the year to visit the offshore islands of Taiwan. My friends and I had a magnificent trip to Orchid Island in May. Regular flights from Taitung were up and running, the weather was perfect and hot enough to swim, but there were no almost no visitors there yet, Taiwanese or foreign. What's more, this is the only time of year you can witness the Flying Fish Festival on Orchid Island.
The annual 9-day Matsu pilgrimage, one of the largest pilgrimages in the world, usually takes place in April or May. It celebrates Matsu's birthday, which will be on May 12 in 2022. The exact dates of the pilgrimage vary by year and are usually determined by an oracle in early spring. The pilgrimage starts at ends at Zhenlan Temple in Dajia District in Taichung, visiting dozens of temples in four different counties.
Earthfest Revolutions, an underground psy-trance music festival, usually takes places twice a year, in May and September. The location is usually in Sanyi, Miaoli or Puli, Nantou. Major events were cancelled in the last few years, but keep an eye on their Facebook page for possible future events and smaller related gatherings.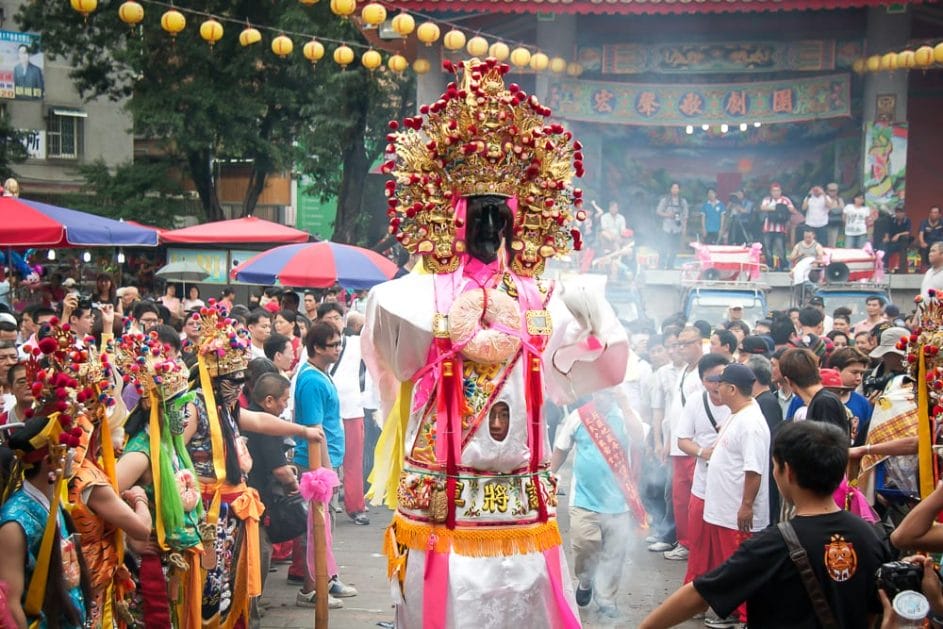 On the 23rd day of the 3rd month on the lunar calendar (May 12, 2023), Taiwan celebrates the birthday of Matsu, goddess of fishermen and the sea. Matsu is the patron goddess of Taiwan and her birthday is celebrated with a raucous 10-day mass pilgrimage that attracts more than a million participants. The exact dates of the pilgrimage are determined early in the year. The pilgrimage starts at ends at Zhenlan Temple in Dajia, Taichung, and traverses parts of Changhua, Yunlin, and Chiayi counties. The pilgrimage usually starts before her birthday and culminates on it.
The Penghu International Fireworks Festival usually takes place from late April to June on the offshore archipelago of Penghu. The fireworks display is usually held twice a week during that time.
Buddha's Birthday will be celebrated on the 8th day of the 4th lunar month (May 26, 2023). While this is not a major celebration like it is in some neighboring countries (see my article on the Lantern Festival in Busan, South Korea), you can expect major Buddhist monasteries in Taiwan such as Foguangshan in Kaohsiung to have some kind of festivities or special decorations.
Conclusion: Is May a Good Time to Visit Taiwan?
In my opinion, no month is a bad month to visit Taiwan. Don't let the plum rains scare you off from visiting Taiwan in May. They aren't as bad as they sound, and when it rains in Taipei (which it kind of always does), people open their umbrellas, scooters riders throw on a rain jacket, and life goes on as normal. It's part of the Taipei experience!
For the rest of Taiwan, May offers great early-summertime weather, but not as overwhelmingly hot as it will become in the coming months. It many ways, it's quite an ideal time to visit Taiwan!
Also read: