Dear reader: This article contains links to products and services that I may be compensated for, at no extra cost to you.
Did you know that Taipei receives more than twice as much rain per year than Seattle, considered one of the rainiest cities in the United States?
Rain is a part of life in the capital of Taiwan. When the rains come down, pedestrians pop open their umbrellas, scooter riders throw on their ponchos, and life goes on as normal. The exception is during typhoons, when it is recommended to stay indoors.
So what to do on a rainy day in Taipei? In this article I'm going to give you 25+ ideas for indoor activities in Taipei, perfect when showers are on the forecast. Before that, I'll also cover rainy season dates, which months are driest and wettest, and what to do during typhoons.
For even more ideas, see my post introducing more than 50 things to do in Taipei, rain or shine, and the best things to do in Taipei with kids.
When is the Rainy Season in Taiwan?
Taiwan doesn't have a proper monsoon or rainy season like several other countries in Asia. There is a mini rain season called the Plum Monsoon or East Asian Monsoon in May in Taiwan, during which gray skies dominate and it rains almost every day, but not usually more than a sprinkle.
About half a dozen typhoons usually strike or pass near Taiwan every year between July and October, though there have been fewer in recent years. A typhoon will bring extremely heavy rain but only for a day or two. These months are thus the sunniest AND rainiest months of the year – they actually have more hours of total sunshine than other months. But when it does rain, usually for a short time, it rains really, really hard, so the total rain volume adds up quickly.
Winter in Taiwan, especially January and February, also sometimes have gray skies and/or drizzly weather. The amount isn't more than other seasons, but coupled with winter's cool temperatures in Taipei, you'll feel it more than in other seasons.
For more information, see my guides to the best time to visit Taiwan and best time to visit Taipei.
Which Months are the Driest and Wettest in Taipei?
The driest months of the year in Taipei are in autumn and early winter: October, November, December, and January. Out of those, only October has more than 100 mm of rain on average, but that's only due to the occasional typhoon striking late in the season. But even during each of these months, Taipei still receives 12 days of rain, so you should still plan for a chance of rain when visiting at this time.
February, March and April only have a moderate chance of rain, with an average around 180 mm per month. See more info in my guide to spring in Taiwan.
May, June, July, August, and September are the rainiest months in Taipei. In May and sometimes early June, you'll almost never see the sun. It is either gray or raining all the time, due to the plum monsoon, but this is usually light rain.
July, August, and September are actually the sunniest months of the year in Taiwan. But the total rain volume is quite high, because when it does rain (either typhoons or brief but intense showers in the late afternoon), it rains very hard.
In my opinion, you shouldn't avoid visiting Taipei in any month of the year due to the chance of rain, because there is almost always a chance of rain. You just need to cross your fingers and hope for the best. One exception is May. The sun almost never shines in May, so I would try to avoid it if this matters to you.
What to Do if There's a Typhoon
Typhoons can strike anytime between July and November, but August to October are the most common. Still, they are relatively rare, and there were actually almost no typhoons that made landfall in Taiwan from 2020 to 2022. In my opinion, you shouldn't NOT visit Taiwan during this time due to concern about typhoons.
In the rare case that a typhoon is expected to hit Taipei directly (direct hits are more common on the east coast), the city government will call a day off for everyone (each city and county in Taiwan will call their own), so no one has to go to work or school. When this happens, you should not go outside all day (even if it seems not bad – typhoons are known for slowing down but then picking up again very suddenly).
You will have a day's notice for this – just ask your hotel. Make sure to stock up on enough food for the day. Taiwanese love to eat instant noodles on typhoon days, so instant noodles will often totally sell out in grocery stores and convenience stores when a typhoon is coming. Going to KTV (karaoke) is also a popular activity during typhoons, when it is considered safe to venture out.
I've experienced perhaps a dozen of these typhoon days off in my years in Taiwan. In one very rare case, there was two days off in a row. Sometimes, the government calls a day off, but then the typhoon changes direction and nothing really happens. But I've experience a couple typhoons that were pretty wild.
One typhoon in particular (Typhoon Soudelor in August 2015) hit Taipei directly (quite rare) and caused a lot of damage in my neighborhood, but the buildings themselves are very sturdy and we were totally safe.
If a typhoon is just passing by Taiwan but not hitting directly, there may just be an increase in heavy rain, but no day off. Just exercise basic caution, don't go hiking or cycling in mountain areas, and use the below section as a guide for rainy day activities in Taipei.
What to Do on a Rainy Day in Taipei
The following are my suggested things to do on a rainy day in Taipei. Most, but not all of them are indoor activities.
Leave Taipei
This might sound like a silly or condescending suggestion, but please hear me out! Taipei city sits in a large basin that traps heat and humidity, resulting in its signature high-frequency rains. One of the best ways to beat the rain is to just leave the city!
It is often the case that the weather in Taipei is crap, but at the same time it's fine in other cities in Taiwan, especially Taichung, Tainan, and Kaohsiung. You can reach these cities in a mere 1, 1.75, or 2 hours, respectively, by High Speed Rail. This makes a day trip to any of them feasible.
Although less commonly the case, sometimes areas even closer to Taipei have better weather on the same day. It's worth checking out! And even if it does rain when you leave the city, well, at least you did something besides staying inside. See my recommended day trips from Taipei for ideas.
But where to go in Taipei when raining? Everything below is in or very near to Taipei city.
Take a Cooking Class
If rain is pretty much guaranteed during your visit, sign up for a cooking class on one of your days there! These are a great way to meet locals, immerse yourself in Taiwanese culture, and acquire some skills you can put to good use after your trip.
Check here to find some of the best cooking classes in Taipei. The options range from xiaolongbao (soup dumplings) and traditional street foods to Taiwanese desserts and bubble tea. You can also try DIY pineapple cake making and other pastries at Kuo Yuan Museum of Cake.
National Palace Museum
Taipei's most famous museum is an obvious indoor activity choice. The museum has the world's largest collection of Chinese artifacts, with around 3000 of them on display at any given time. There are permanent pieces, like the famous Jade Cabbage and Meat-Shaped Stone, as well as seasonally rotating exhibits. There's also a children's play area.
You can buy your tickets online in advance here. Also consider visiting the Shung Ye Aboriginal Museum next door. There's a combined ticket option in the above link. The museum is closed on Mondays.
Other Museums in Taipei
There are plenty of other museums besides National Palace to choose from in Taipei, New Taipei City, and Keelung. Here are some of the best ones:
Fun Fact: Keelung city is often considered the rainiest city in Taiwan, with 229 rainy days per year. It is even nicknamed "Rainy City". See my guides to Keelung and its famous night market, and other fun facts about Taiwan.
Art Galleries
Besides museums, there are also several excellent art galleries in Taipei and area. Here are some of the top ones:
XPark Aquarium in Taoyuan
Opened in 2020, Xpark is the newest aquarium in Taiwan (read about all the others in my guide to the best theme parks and aquariums in Taiwan).
Xpark features hundreds of sea creatures and a massive, Instagram-worth water tank. The aquarium is conveniently located next to Taoyuan HSR station in Taoyuan City, so you can get there in a mere 20 minutes from Taipei Main Station by HSR.
Buy your XPark tickets online here. For a truly memorable experience, you can even spend the night in the aquarium!
Beitou Hot Springs
One of my personal favorite things to do on a rainy day in Taipei is to soak in a hot spring in Beitou. Hot springs are actually enjoyable in light rain! If the rain is quite heavy, you can also opt for an indoors one.
In my Beitou hot spring guide, I recommend the best traditional bathhouses, public hot springs, and hot spring hotels.
Spring City Resort is the best co-ed, kid-friendly, outdoor hot spring in Beitou. If you want to visit the Hot Spring Museum and steaming Thermal Valley, avoid Mondays, when they are closed.
Get a Massage Treatment
For a fancy spa or massage treatment, you'll be spoiled for choices in Taipei. Some popular ones include Japanese-style Village Spa Massage, Villa Like, Six Star, and A'Chron (inside Taipei 101!) You can also try a traditional knife massage in Taipei (the female master, my friend Olivia, speaks native English and Chinese).
You'll also see many foot massage places when exploring Taipei, but heads up that it can be quite painful! There are also cheaper massage places, but some are sketchy, especially at night.
Taipei 101 Observatory
The Taipei 101 Observatory is mostly indoors. The main sections on floors 88 and 89 are indoors, while the small outdoor lookout on the 91st floor may be closed on rainy days. The 101F "Skyline 460" experience, the true top of Taipei 101, may also be closed on rainy days.
Is it worth visiting Taipei 101 Observatory on rainy days, though? I find it hit or miss. The most famous of Taiwan's landmarks is often shrouded in mist. If the clouds are low-lying or it's really pouring, then you won't be able to see much. However, if the rains taper off, the clouds can add a picturesque spookiness to the cityscape.
You can buy regular, fast track (skip-the-line), or 101F Taipei 101 tickets here. Taipei 101 Observatory is the most valuable item included on the Taipei Unlimited Fun Pass. Read my guide to the pass here.
Please note that Maokong Gondola, one of Taipei's most popular attractions, usually closes during heavy rain. It is also closed every Monday.
Indoor Playcenters for Kids
Visiting Taipei with kids but getting stuck indoors due to rain can be tough. Fortunately, the city has several indoor playcenters for little ones.
Some of the best ones include Wooderful Life in Huashan 1914 Creative Arts Park, Tom's World (a chain of indoor arcades), and PaPark and others inside ATT eLife, a kid-focused department store.
Find all the details about these, some kid-friendly restaurants, and other indoor things to do in Taipei with kids.
Seafood Feasting at Addiction Aquatic
You can easily pass an hour or two exploring and feasting on seafood at Addiction Aquatic, Taipei's upscale seafood paradise.
Besides the indoor fish tanks, grocery store, sushi bar, seafood bar, and hot pot restaurant, there's also an outdoor (but covered!) seafood BBQ restaurant.
Shilin Underground Food Court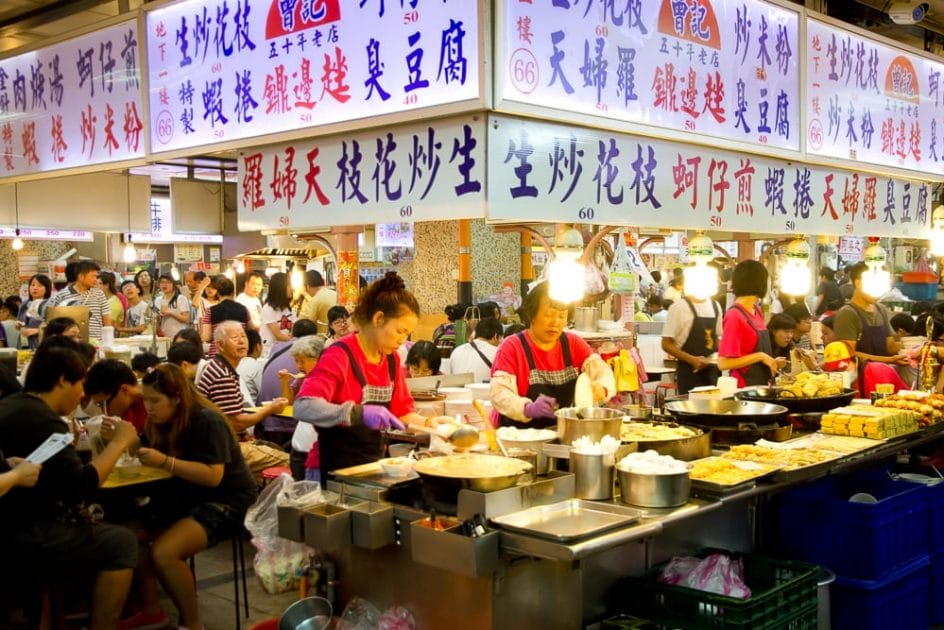 Rain in Taipei often eases off in the early evening, so you should still be able to visit the city's many famous night markets.
However, if it's still raining hard, don't let that stop you. Head to the large underground food court inside Shilin Night Market, located here.
There you can find a plethora of totally covered food stalls and small restaurants, most of which even have a small seating area. That way you can get your jipai (chicken fillet) or oyster omelet fix without getting wet! Most stalls down there open around 3 or 4, a little earlier than ones up on the street.
Yuanshan Maji Square
Another way to sample good eats in a covered location is the large, outdoor (but totally covered) food court at Maji Square (also called Maji Maji or Maji2). It is connected to the stadium right next to Yuanshan MRT station.
Maji Square has a few dozen food stalls, spanning Taiwanese and international street foods – everything from raw oysters with white wine to Indian food! There are also a few cool shops, a craft beer bar, teens practicing their dance moves, a carousel for kids, plenty of seating, and an underground night club called Triangle.
On weekends, there's a Farmer's Market outside the food court (but still mostly covered). Taipei Fine Arts Museum is just across the street.
Hot Pot & Other Restaurants
When it's raining and cold, nothing beats a two-hour, all-you-can-eat hot pot session to warm your belly and soul. DIY BBQ will also do the trick!
There are so many hot pot joints and other restaurants in the city that it can be hard to even know how or where to begin. Let me help you with that – here are my recommended hot pot and other restaurants in Taipei, categorized by type, with a handy map to find the most convenient ones wherever you are.
Catch a Movie on Cinema Street
When it's raining cats and dogs, there's no shame in catching a flick during your Taipei trip! There are several movie theaters to choose from in Taipei, but Cinema Street in Ximending is especially convenient because there are a few on the same street.
Lux Cinema and in89 are the main ones, while Cinemark and Showtimes are also nearby. Hollywood films will usually be played in their original English language with Chinese subtitles, and Chinese films sometimes (but not always) have English subtitles – it's best to inquire when purchasing tickets.
After your movie, go for a cocktail at the secret, speakeasy-style Hankou 60 on the same street, which is cinema-themed. They've even got a cocktail that comes hidden in a real box of popcorn!
KTV or MTV
What do Taiwanese do when it's pouring rain? They sing their hearts out at karaoke, or KTV, as it's called in Taiwan. You'll get your own private room for you and your friends, with food and drinks (including alcohol) to order. The most popular chains are PartyWorld, New CB Party, and Hoiday KTV. It's best to call and book in advance, if you can.
English songs (and English ability among staff members) are limited, unless you go to EST, which specializes at English, Japanese, and Korean. The selection is quite impressive, even including some underground/obscure stuff, like my favorite punk songs from the 1990s.
MTV is like KTV, except you get to watch a movie on your own private large screen instead of sing. You choose the movie before going in, and there are also snacks to order. U2 MTV in Ximending is the most famous spot. It's especially popular among local teens, who go there for a date to have a little privacy.
Chill out in a Local Café
Coffee house culture has become huge in the last few decades in Taipei. There are excellent cafés everywhere, from big chains like Starbucks and the local Mr. Brown to small but dedicated shops featuring single origin, slow drip, and other specialty coffees.
Try Coftail by Coffee Space for coffee-infused cocktails in a modern-space (run by my sister-in-law!), Galette Café for a selection of jigsaw puzzles, Café Costumice for laid-back vibes, or one of these cat cafés (cat cafés were invented in Taipei, after all!) Find even more cafés in Taipei here.
Visit a Traditional Teahouse
For something more traditional, there are still a handful of old school teahouses left in Taipei, a few of which are housed in historic Japanese houses. You'll get a long list of traditional Taiwanese teas to choose from, which you'll get to brew yourself gong-fu style with special equipment, with guidance if needed.
For the cheapest and easiest options, I recommend Eighty-Eightea Rinbansyo in Ximending, Stop By Teahouse, or 聚落山海 (the latter two are on Yongkang Street). Expect to pay around TWD 350 and spend 1 to 2 hours (or longer or you wish) to run through the tealeaves that are included.
Fancier but pricier options include Wistaria Tea House, Qingtian Teahouse, and 和合青田 (booking needed for latter two). For more information on all of these, see my guide to drinking tea in Taipei.
Also consider taking a Taiwanese tea-tasting class!
Go on a Whisky Distillery Tour
This one is outside of the city. But whiskey fans shouldn't miss Kavalan Distillery in Yilan county, which can easily be done as a day trip from Taipei.
You can just show up and join the next tour (Mandarin-only) or make an advance reservation for an English tour. An easier way is to join this Kavalan day tour from Taipei or this Yilan tour that also includes a stop there.
While in Yilan, don't miss the hot springs in Jiaoxi village, also perfect for a rainy day! See my recommendations in my Jiaoxi guide, including some of the best kid-friendly hot springs in Taiwan. See more things to do in Yilan here.
Eslite Bookstore
Eslite Bookstore is a popular bookstore chain in Taipei that has won awards for its beautiful interior design. It used to be known as the 24-hour bookstore and people would hang out there all night reading books, but unfortunately, none of them are 24 hours anymore.
Still, Eslite is a good place to escape the rain, and some of them are found in malls which also have some good dining options, such as this one in Songshan Cultural Creative Park, Eslite Xinyi, and the Ximending location.
Department Stores & Malls
When skies are gray, sometimes a little retail therapy is in order. Taipei has no shortage of malls, although most of them cater to high-end shoppers. But even for budget travelers, you can find some amazing food courts in these malls, often located on B1. Here are a few to consider:
Att eLife: Best for visitors with young kids
Sogo: try the two locations near Zhongxiao Fuxing for good food courts and a Din Tai Fung branch
Shin Kong Mitsukoshi: spend hours in this collection of malls around Taipei 101
Taipei 101 Shopping Center: At the base of Taipei 101 itself!
Breeze: several of them around the city, including Taipei Main and Taipei 101
Q Square Mall: Another choice by Taipei Main
Mega City Banqiao: a great old-time-themed food court and another Din Tai Fung location in New Taipei City
Bowling, Pool, Escape Rooms, and Game Centers
Let's get creative here! There are a few 10-pin bowling alleys in Taipei, such as this classic institution in Yuanshan, near Grand Hotel Taipei. You can even bring in your own drinks.
Pool (billiard) halls are quite popular in Taipei – try this one or this one – both are non-smoking. For an escape room with English available, try this one or this one. For laser tag, there's LazerTreks.
For all kinds of indoor fun in one place (kids or adults!), I recommend E7 Play in Sanchong district, New Taipei City (Taipei Bridge MRT station). They've got bowling, darts, video game arcade, pool tables, and more. You pay one price to access it all.
Catch a Performance at TaipeiEye
TaipeiEye is the best place in Taipei to see indoor Taiwanese and Beijing opera, folk music, and traditional pupper performances.
Unfortunately, TaipeiEye closed due to lack of tourists during COVID and still hasn't reopened yet. They are supposed to reopen sometime in 2023. I'll update this space when they do!
Have Your Fortune Told
Fortune telling is very common in Taipei. Fortune tellers can advise you on your future, predict compatibility with partners, help to choose child names, and more. I've tried it and it's weirdly accurate!
There are two fortune telling services that I can confirm have English service available. This one is located in the underground street of fortune tellers next to Xingtian Temple in Taipei. She definitely speaks English, but it's best to make a booking with her in advance.
My friend Olivia also does Yi Ching readings (similar to fortune telling) as well as traditional knife massage at Light Program Red House next to Red Theater in Ximending, right in the LGBTQ+ center of Taipei. Read about my experience trying both of these here!
Suck It Up and Do Outdoor Activities
As I mentioned at the beginning of the article, life goes on in Taipei when it rains. It kind of has to, because it rains a lot! In most months besides winter, it doesn't even feel cold when it rains. In summer, the brief afternoon showers are often a relief!
Pick up a cheap umbrella or poncho from 7-Eleven and stick to your plan! For ideas, here are the best temples in Taipei, beaches in Taipei, hikes in Taipei, and my guides for exploring Di Hua Street, Yongkang Street, Ximending, Shenkeng Old Street, Tamsui, and Keelung. For itinerary planning, here are my 2-day, 3-day, 4-day, and 5-day itineraries.
Also read about the best day trips from Taipei. If the forecast says it "might" rain there (which it almost always does), chances are you'll get there and either it won't rain at all or only for a short time. If there's only a chance, just go for it. I've had so many day trips from the city, where I almost canceled, but then I went anyways and never regretted it!
What do you do on rainy days in Taipei? Anything I missed? Let me know if the comments below!