Dear reader: This article contains links to products and services that I may be compensated for, at no extra cost to you.
If you're traveling down Highway 11 on Taiwan's east coast from Hualien to Taitung looking for good surf, want to hang out with artists, or just seeking an antidote to nearby Kenting's resort scene, Dulan is your spot.
Dulan is located in a remote and very beautiful corner of Taiwan, but even from Taipei, you can reach the area quite quickly if you fly from Taipei's Songshan airport to Taitung. While beaches in the north of Taiwan tend to only attract crowds in summer, you can actually swim or surf at Dulan year-round.
This small aboriginal village lining highway 11 in Taitung County about 20 kilometers north of Taitung City has been a haven for artists, both local and foreigners living in Taiwan, for over a decade now, but the word is out and the scene is no longer the secret it once was. I consider Dulan to be one of the 50 best places to visit in Taiwan, and you can see how to fit it into your Taiwan travel itinerary here.
To be honest, the first few times I passed through Dulan I didn't see what all the hype was about, but recently I decided to give it a fair chance and spent a few days there as a part of my round-Taiwan trip with kids, and I can finally see why people rave about it so much.
If you want to get the best taste of Dulan, try to come on Saturday night, when a concert and arts & craft market take place at the Sugar Factory, the focal point of the local arts scene.
Another great place that we really love in Taitung county is Luye, site of the awesome Taiwan International Hot Air Balloon Festival every summer. See my complete article on Luye and the hot air balloon festival for all the details, including hot to get from Dulan to Luye.
Heads up that Dulan can be prone to typhoons in summer, especially in August and September.
Want to save money on your Taiwan trip? We always find lots of great discounts and deals on transportation, activities, and more on Klook. Open an account using this link and you'll get NT$100 off your first booking.
Why is Dulan So Cool?
If you just drive through, the short stretch of shops on either side of the highway looks like just every other town you pass through in Taiwan. But spend a bit of time here, get off the highway, and you'll soon notice that the town is beautifully situated between a stretch of beaches, coastal bluffs and towering peaks of Dulan Forest, considered sacred to the local Ami and Taibalang aboriginal tribes.
If you are interested in experiencing Taiwan's unique aboriginal cultures, also check out Orchid Island (also in Taitung), Sun Moon Lake in Nantou, or try this aboriginal cooking course in Hualien.
The region is comparable in beauty to Hualien, where Taroko Gorge is located, but minus the tourist crowds.
Taitung county was one of the last regions of Taiwan to be colonized; even today it retains a remote, rural feel and is the breadbasket (or rice basket?) of Taiwan.
Dulan has an industrial past, and while many original inhabitants left long ago to find work in the city, the town is now a magnet for artists, hippies and increasingly these days, backpackers, with the main meeting places being a repurposed sugar factory, now a miniature arts village called the Sintung Sugar Factory Culture Park.
The vibe here is more like what you would expect in a Southeast Asian backpacker beach community, but to say it is an exact copy of that would be to deny its strongly Taiwanese, aboriginal, and Taitung flavor. You really won't find anything like this anywhere else in Taiwan. Currently, there are about 40 expats living in Dulan, and the area will most likely continue to become more popular in years to come.
Dulan is also one of Taiwan's top surfing spots, and expansive, black-sand Dulan Beach seldom has more than a couple dozen beachgoers. Even if you aren't into surfing or the arts, they are more budget hostels in town than anywhere else between Hualien and Taitung, or many tasteful, secluded B&Bs in and around Dulan for those looking for a quiet escape, many with sweeping Pacific views.
Things to Do in Dulan
1. Hit the Beach
Just beyond the bridge on Highway 11 at the northern end of town, watch for the sign for Dulan Beach Road. Even the short stretch of road from the Highway down the beach is lovely, passing coastal rice paddies before you meet the long stretch of black sand at Dulan Beach, arguably the best beach in Taitung.
Besides a few surfers in the water, there was hardly anybody else on the beach when we visited, in sharp contrasted to the seas of umbrellas and motorboats at beaches in Kenting at the southern end of Taiwan.
If you really want to have the whole beach to yourself, then head to Jiamuzi (加母子), a cape located a few minutes drive down the hill on Highway 11 south of town. Watch for a large white house and take the little road beside it down to find a beach stretching along an entire cape that only locals know about.
If beaches and surfing are your thing, you may also want to check out my list of the best beaches in Northern Taiwan.
2. Take a Surfing Lesson
Dulan has decent surf and is a great place for beginners, especially in summer when waves are smaller (except when there's a typhoon coming, when they can be huge!) You can also surf in winter, but the waves can be rough so it's not ideal for beginners.
Wa Ga Li Gong Surf Hostel & Restaurant (see 'where to stay' section below) offers lessons on Dulan Beach, or Surf House Taiwan arranges rentals, classes, rides to the best waves, and has deals for long-term stays.
You can also book this surfing lesson on Klook, which is done in Donghe, a 10-minute drive north of Dulan. Sign up for Klook here to get NT100 off!
3. Ride a Scooter up Yuanshan Industry Road
On GoogleMaps you'll notice that Dulan has a one thicker white road that runs up towards the mountains and then back down to the highway. Despite the uninspiring name, it's a gorgeous 20-minute drive by scooter.
There is one archaeological site along the way, but we didn't bother to stop because reviewers say there's nothing much to see. There is however one restaurant worth seeking out (see #6 in the 'Places to Eat in Dulan' section), and several B&Bs.
At the very top of the road, Moonlight Inn is a cafe housed in a Japanese era building with an incredible view over Dulan and the ocean.
See the 'How to get to Dulan' section for how to rent a scooter in Dulan or Taitung.
4. Chill at the Sintung Sugar Factory Culture Park
Besides the concert and craft market that take place every Saturday night, there is also a restaurant, café, and art gallery on site, as well as the Highway 11 Craft Beer bar.
If you are coming to Dulan to connect with artists or check out their work, this would be the obvious place to start, but it's also just cool place to hang out for an afternoon and socialize or read a book.
5. Shop for Aboriginal Crafts and Clothing
When we visited, there were several stalls selling aboriginal crafts made of leather and bamboo within the Sugar Factory, as well as an aboriginal shop selling clothing and other goods at the southern end of town.
6. Check out the Awesome View from Dulan Cape (都蘭鼻)
Take the small road just north of the Dulan Garden BBQ (see #9 in the 'Places to Eat in Dulan' section below) down for a grand, cliff-top view of the sea and coast.
7. Water Running Up
I wouldn't call it a "must-do," but a lot of drivers on the highway make a pit stop at the strange spectacle of a creek that appears to run up an incline just south of town.
8. Cycling Around Dulan
The east coast of Taiwan is a phenomenal place for cycling, so hope on a bike and explore! If you accommodation doesn't rent bicycles, try the Groundnut Backpacker Hostel (see on Booking / Agoda / TripAdvisor).
9. Drive North to Chenggong Seafood Market (45 minuets)
The Xingang Fish Market (新港漁市場) takes places in Chenggong (成功鄉‭)‬'s‭ ‬small harbor every day in the mid-afternoon‭.‬
10. Continue to the Platform of the Three Immortals (another 10 minutes)
Sanxiantai (三仙台, the Platform of the Three Immortals) is a beautiful curving bridge to a small volcanic island. It is one of the most impressive sights on the southeast coast of Taiwan.
Best Places Eat in Dulan
One of the things that sets Dulan apart from other small Taiwanese towns is the variety of international food on offer, thanks to the numerous expats and internationally minded locals who have settled in the area. There are of course restaurants specializing in the usual local Taiwanese foods as well.
In the morning, there are two or three local breakfast shops in town. There's also a tiny grocery store if you prefer to cook, and a 7-Eleven and Family Mart for your modern conveniences. You can also find a handful of shops doing simple local noodle and rice dishes, best if you are on a budget.
1. Dulan Fish & Chips (Taitung Tea House)
I put the Taitung Tea House (aka Dulan Fish & Chips) first on my list because it was our favorite (the others are in no particular order). This tiny 4-table outfit is truly a hole in the wall, and is run by a couple of friendly Taiwanese.
The fish pieces were huge and you could choose regular or extra crispy. Their other specialty was an assortment of unique shaved ice desserts, including tea, pineapple, roselle, yam, and the real star of the show: "The Wave," shaped like a frothy ocean wave and flavored with blue curacao and lime, and with sweetened seaweed and other jelly things hiding below.
2. Sugar Factory Café and Highway 11 Bar
The small restaurant in front of the Sugar Factory is a popular choice for food, while a vendor across from it serves cocktails, beers, and snacks.
Further in, there's the Dulan Sugar Factory Cafe, and Highway 11 Bar in the Sugar Factory itself serves four locally made craft beers (Indian Pale Ale, Lemon Wheat, Honey Ginger Ale, and my personal fave, the chocolate oatmeal stout). They also serve delicious (and strong) flavored meads.
3. Dulan Indian Cuisine & Ice Cream
A couple minutes drive up a road at the northern end of town, and situation in calm, leafy surrounds, humble Dulan Curry & Ice Cream serves up delicious, authentic, vegetarian (and mostly organic) curries, with ice cream to finish.
4. Wa Ga Li Gong Surf Hostel Bar & Restaurant
Come to WaGaLiGong's restaurant to satisfy homemade pizza and burger cravings, or drop in for their cocktail happy hour 6-7pm on weekends.
5. Vietnamese Restaurant
Why does every little beach town in Taiwan have a Vietnamese restaurant? Not sure, but we like it. We found this to be a nice break after several days of eating the same kind of Taiwanese fried noodles on our trip (my kids insist on eating noodles for every meal).
6. Sophie's Bistro (蘇菲的小酒館)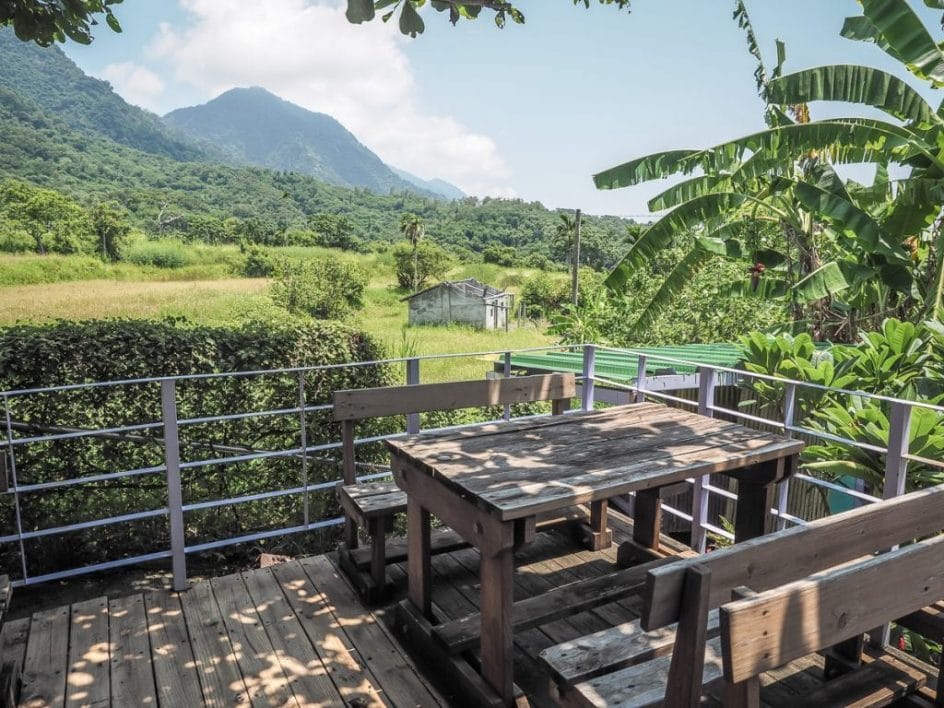 Nearly at the top of Yuanshan Industry Road (see #3 of the "things to do in Dulan" section), you would never expect to find tiny Sophie's Bistro with reservation-only dinners that Taiwanese bloggers such as this one rave about, with an emphasis on artfully prepared local dishes. We didn't eat there but stopped for a look on our drive up. The setting is really pretty!
7. Marino's Kitchen
At the northern end of town you can find this pizzeria and bakery, with exceptional (but expensive) breads.
8. Dulan Crap (法式創意料理)
Super weird name (I think they mean crepe…), but this place just north of town supposedly does excellent, authentic French cuisine.
9. Dulan Garden BBQ (都蘭院子大BBQ海鮮燒烤)
At the southern end of town (watch for the brightly yellow building), this shop does good seafood BBQ, with a few tables inside and more in a garden outside.
10. Sleepy Lagoon Café (慵藍珊瑚)
Another Western food option, with reasonably priced burgers and tacos.
Where to Stay in Dulan
For budget hostels, try Travel Bug Bistro Inn (see on Booking / Agoda / TripAdvisor), Groundnut Backpacker Hostel (see on Booking / Agoda / TripAdvisor), or Wa Li Gong Surf Hostel (see official site / Agoda / TripAdvisor).
For a surf-oriented long term stay, check out the deals at Surf House Taiwan (see official site/ TripAdvisor).
For guesthouses/B&Bs, on Yuanshan Industry Road, the units at Stone Party (see on Booking / Agoda / TripAdvisor) looked so cool that we stopped to gaze at them for a while.
The Happy House (see on Booking / Agoda / TripAdvisor) or Pretty Dulan (see on Booking / Agoda / TripAdvisor) would be good options for families or large groups.
For a classy, secluded stay, try Dear Garden (see on Booking / Agoda / TripAdvisor).
We chose The Song of Eagle (see on Booking / Agoda / TripAdvisor) just out of town and up the road past the 'Water Running Up' attraction. Our simple but modern and clean room had a balcony with a commanding view of the ocean.
My only complaint is that while they had a refrigerator and hot water, their kitchen didn't have a stove for cooking, so we always had to go into town (not a major problem), and their dog was a little annoying.
How to Get to Dulan
The fastest and most convenient way to get from Taipei to Taitung is by taking this flight from Taipei's Songshan airport.
Dulan is a 30-minute drive north of the Taitung City train station by scooter. We drove slowly (I had two kids and our luggage on a scooter), so we did it in 45. There are several spots in front of the train station where you can rent a scooter (NT350-400 per day, local or international license required).
You can also take public buses 8101, 8102, 8103, 8109, 8119 or 8120 (NT58), or the East Coast Line tour bus (NT82) from outside and just to the right of the Taitung Train Station.
The owner of Tangerine House Hostel also offers scooter rentals in Dulan.
It takes 3.5-4.5 hours to reach Taitung from Taipei on the regular train. If you're coming from Taipei, check out my Taipei 4-day Taipei itinerary and list of 50 things to do in Taipei.
Thanks for reading my Dulan guide, and please let me know in the comments below if you found that any of the information it is outdated!