Dear reader: This article contains links to products and services that I may be compensated for, at no extra cost to you.
Canada, the second largest country in the world, is a vast land of immense proportions. It has one of the lowest population densities in the world; what that spells out to is a whole lot of wild space and not a whole lot of people. In Canada we've got single islands most Canadians have not even heard of that are larger than the countries of Hungary and Austria combined.
Showcasing the country's natural magnificence, Canada's national parks cover a staggering 328,198 square kilometers from the Pacific to the Atlantic shores, and from frozen Arctic waters to the American border on the 49th parallel. These extensive parks protect lands that have been sacred to First Nations people for at least 15,000 years, and they abound in opportunities to see wildlife.
Canada has 38 national parks in total, not to mention 10 national park reserves (which may someday be upgraded to national parks), one national urban park, and over 1000 provincial and territorial parks. For the sake of keeping this article to a reasonable length, I'll only cover the 38 official national parks.
I hope that this list can serve as a national parks bucket list and guide for road trips around Canada for anyone, myself included, wishing to someday venture into the many sublime and yet-to-be-explored corners this wildlife and natural resource-rich nation has to offer.
If you plan to spend more than seven days in a year in Canadian national parks, its worth getting a Parks Canada Discovery Pass, valid for one year from the date of purchase. Also consider reading some of these excellent Canadian books before your trip!
Western Canada National Parks
Beginning on Canada's Pacific Coast, I've here defined Western Canada as British Columbia and the Rocky Mountain national parks of Alberta. The predominant feature shared by all of the national parks in this section is mountains.
BC also has three noteworthy national park reserves on the Pacific Coast, Gwaii Haanas, Pacific Rim, and Gulf Islands (see my guide to Galiano Island!), but I won't cover those below. Some of BC's best campgrounds are located in these national parks, but they are also very popular and fill up fast.
If you're starting your trip in Vancouver, as many visitors do, make sure to check out these things to see and do in Vancouver!
1. Mount Revelstoke National Park, BC
Mount Revelstoke is the first of British Columbia's four mountainous national parks that you'd encounter if driving inland on the Trans-Canada Highway (Highway 1) from Vancouver, but you'll need to budget six hours to get there.
Relatively small in size, the park contains rugged mountains of the Selkirk Mountain Range, 1000-year-old cedar and pine trees, excellent skiing, and one of the world's only temperate rainforests.
2. Glacier National Park, BC
A short drive east from Mount Revelstoke, but several times larger, is Glacier National Park. The park's dramatic landscape is defined by angular peaks, deep valleys, epic waterfalls, and, as the name suggests, numerous glaciers. Highway 1 ascends Rogers Pass, a National Historic Site, in Glacier National Park.
Canyon Hot Springs is located on Highway 1 between Glacier and Mount Revelstoke National Parks.
3. Yoho National Park, BC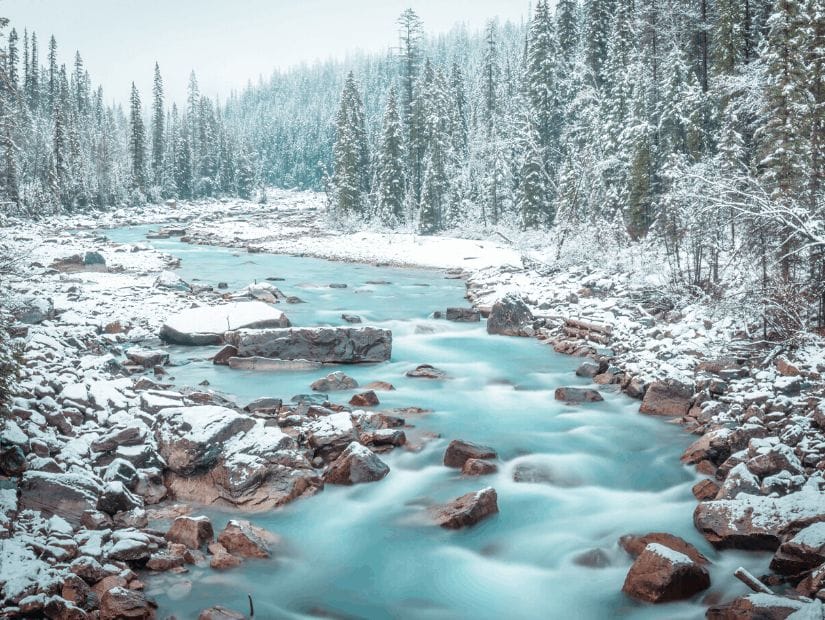 Yoho National Park was BC's first national park. It was established in 1886, on the same day as Glacier National Park, becoming the country's second and third national parks after Banff.
Yoho sits on the western slopes of the Rocky Mountains. It boasts spectacular rock walls, plunging waterfalls, and a rock bridge over the Kicking Horse River. The highest point on the Trans-Canada Highway, Kicking Horse Pass, is located between Yoho National Park in BC and adjacent Banff National Park in Alberta.
4. Kootenay National Park, BC
British's Columbia's largest national park, Kootenay National Park, lies south of Yoho National park and encompasses the Kootenay and Park mountain ranges of the Rocky Mountains.
Like the above three parks, Kootenay is known for its outstanding mountain views, abundant wildlife, colossal glaciers, deep canyons, and it even has an arid grassland where cacti grow. Highway 93 breaks off from the Trans-Canada and travels south through the Kootenay National Park to Radium Hot Springs.
The Canadian Rocky Mountain Parks is a UNESCO World Heritage Site made up of Yoho and Kootenay National Parks, Mount Robson, Mount Assiniboine and Hamber Provincial Parks, and Jasper and Banff National Parks in Alberta.
5. Jasper National Park, AB
Jasper National Park is by far the largest national park in the Canadian Rockies. It consists of a northern section of the Rocky Mountains and is home to abundant wildlife, great skiing, stunningly beautiful glacial lakes, roaring waterfalls, and Miette Hot Springs.
Visit Jasper in winter for world class skiing, frozen waterfalls, canyon ice walks, and more. Jasper also has loads of hikes at all levels, including many easy hikes for people visiting Jasper with kids.
Being well off the Trans-Canada Highway, Jasper sees fewer tourists than Banff and is said to have a more laid-back vibe. The Yellowhead (Highway 16) runs from the Pacific Coast through Jasper and on to Edmonton, the capital of Alberta. The Icefields Parkway, considered one of the most beautiful drives in the world, connects Jasper to Lake Louise in Banff National Park.
6. Banff National Park, AB
Established in 1885, Banff National Park was Canada's first national park, and remains its most popular today. It sees over 4 million visitors per year and is one of the most popular places to visit in Canada in summer. The park is known for its picture-postcard turquoise glacial lakes, especially Lake Louise and Moraine Lake (pictured above), dramatic peaks, iconic Banff Springs Hotel, historic hot springs, kid-friendly activities, and three world class ski resorts.
In many ways Banff is the epitome of Canadian national parks, and a place that everyone ought to visit once in his or her lifetime. See here for my recommended 3-day itinerary for Banff National Park and these epic things to do in Banff in winter. You can also consider staying in Canmore, a cheaper alternative just outside of Banff.
7. Waterton Lakes National Park, AB
Alberta's lesser-known Rocky Mountain national park is Waterton Lakes National Park in the southwestern corner of the province. Americans know it for being connected to Glacier National Park in Montana, together forming the Waterton-Glacier International Peace Park UNESCO World Heritage Site.
Although much smaller than the other Canada and US Rocky Mountain national parks, it still packs a healthy dose of wild nature with its many lakes, hiking trails, and vibrantly colored wildflowers. The parks most iconic view is of the historic Prince of Wales Hotel on the shore of the Waterton Lakes.
Alberta's national parks feature prominently in my bucket list of things to do in Alberta, my home province. Also find more details about each park in my guide to the five national parks of Alberta.
Central Canada National Parks
Here I'll cover what are what is typically referred to as the "prairies provinces": Alberta east of the Rockies, as well as Saskatchewan and Manitoba. The region is characterized by unending farmland and grasslands in the south, and boreal forests with an enormous number of lakes in the north.
8. Elk Island National Park, AB
Elk Island National Park is miniature compared to Alberta's other national parks and is the smallest national park in Western or Central Canada.
Still, the park has served an important role in conserving the wood and plains species of the American bison. Seeing herds of bison in the park is practically guaranteed. The park is an easy day trip from Edmonton and one of the most famous things to do there. It is also a dark sky preserve, perfect for spotting shooting stars or Northern Lights.
9. Wood Buffalo National Park, AB and NWT
Only a few thousand people per year make the long overland journey up to (or down from, if coming from the Northwest Territories) Wood Buffalo National Park, the world's second largest national park, and Canada's largest. At 44,807 km2, this national park is bigger than the Netherlands! It lies north of the world's third largest oil reserve, the Athabasca Oil Sands, centered on the oil boomtown of Fort McMurray.
Journey into the depths of Wood Buffalo and you are sure to encounter bears and members of the world's largest herd of bison. The park also contains salt flats, karst sinkholes that you can swim in, the world's largest inland delta and the largest beaver dam in the world. It is also the world's largest dark sky preserve.
10. Grasslands National Park, SK
Lying in the southern prairies of Saskatchewan, Grasslands National Park is relatively new (1981), and was created to protect one of the country's last remaining sections of undisturbed grassland. Wild bison can also be seen grazing in the park. You can also sleep in a teepee at the park's campground.
The park is about three hours from Medicine Hat, Alberta or 3.5 hours from Regina, Saskatchewan.
11. Prince Albert National Park, SK
Saskatchewan's second national park is Prince Alberta National Park. It lies in the center of Saskatchewan, north of its two main cities, Regina and Saskatoon, and near its namesake city, Prince Albert.
The park is home to remote backcountry lakes (no surprise in a province that has over 100,000 lakes!) and forests. Recreational activities include canoeing and other water sports, hiking, camping, and spotting Northern Lights.
12. Riding Mountain National Park, MB
Like Saskatchewan, the prairie province of Manitoba has two national parks. Riding Mountain National Park is three hour's drive west of the provincial capital, Winnipeg. The park sits in the Manitoba Escarpment, a range of hills along the border with Saskatchewan.
In contrast to the surrounding prairies, the park consists of forests and wetlands. The indigenous Anishinabe people who live in the region work with the government to conserve the parkland.
What is Canada's most beautiful province? Find out what I think in this article.
13. Wapusk National Park, MB
Vast Wapusk National Park hugs the western shore of Hudson Bay, a marginal sea of the Arctic Ocean into which rivers covering an enormous area flow. The park occupies an extremely inaccessible subarctic region and is home to Cape Churchill, considered the best place in the world to see and photograph polar bears. You'll have to get there by helicopter or Tundra Buggy, though!
Eastern Canada National Parks
Eastern Canada includes Canada's two largest provinces by size, Quebec and Ontario, plus the four Atlantic provinces: New Brunswick, Nova Scotia, Prince Edward Island, and Newfoundland.
The area is mainly covered by the Canadian Shield, with the Great Lakes, some of the largest in the world, forming the southern border with the United States. From them, the mighty St. Lawrence river flows into the Gulf of St. Lawrence, where the four Atlantic provinces are located.
14. Pukaskwa National Park, ON
Ontario, home to Canada's capital city, Ottawa, and largest city, Toronto, is also blessed with five national parks. All five of Ontario's national parks are located in the far south of the province, bordering on the Great Lakes and the United States. These include the three smallest national parks in Canada, not to mention Canada's only National Urban Park, Rouge National Urban Park. Located right in Greater Toronto, it's an easy fit in any visitor's Toronto itinerary.
Pukaskwa National Park sits on the north shore of Lake Superior, the largest lake in the world. The park is filled with boreal forests and protects the longest undeveloped shoreline in the entire Great Lakes region. Pukaskwa is known for backcountry camping and the 60-kilometer Coastal Hiking Trail.
The ubiquitous Canadian National Park Red Chairs can be found at scenic locations in national parks and national historic sites across Canada. Here is where you can find all of them.
15. Bruce Peninsula National Park, ON
Bruce Peninsula sits on a thin piece of land that creates Georgian Bay on Lake Huron. The peninsula is part of the same escarpment that creates Niagara Falls to the south. Together, the park and falls are part of the UNESCO-protected Niagara Escarpment World Biosphere Reserve.
Bruce Peninsula is great for bird watching, awesome sunrises and sunsets, and is connected to the 890-kilometer Bruce Trail along the Niagara Escarpment, considered Canada's longest footpath.
16. Georgian Bay Islands National Park, ON
Across Georgian Bay from Bruce Peninsula, Georgian Bay Islands National Park protects a section of the Thirty Thousand Islands, the world's largest freshwater archipelago, also a designated UNESCO site called Georgian Bay Biosphere Reserve. The park is accessed from Gananoque, one of the most picturesque small towns in Ontario.
The park is known for its secluded waterfront campsites and cabins, but you'll need a boat to get to most of them. Georgian Bay Islands National Park only has 13.5 square kilometers of land space, making it the smallest national park in Canada.
17. Point Pelee National Park, ON
Point Pelee holds the unique title of being the southernmost point in Canada. The point of land pokes into Lake Erie across from Cleveland, Ohio (for more info on the latter, see this post on unique things to do in Cleveland!) Ecology lovers flock here to wander its boardwalks and spot flocks of migratory birds in spring and Monarch butterflies in autumn, while the park also boasts beaches in summer and unusual ice formations in winter.
It is the second smallest national park in Canada, at only 15 square kilometers.
18. Thousand Islands National Park, ON
Another islands-focused national park, and the last one on this list in Ontario, is Thousand Islands National Park. The park in fact consists of some 21 main islands and many islets on the St. Lawrence River, the huge waterway that drains the Great Lakes into the Atlantic Ocean. The islands are actually worn down tops of ancient volcanoes, and are part of the larger UNESCO Frontenac Arch Biosphere Reserve.
The Thousand Islands Bridge is an iconic landmark spanning several islands in the park and connecting Canada to the United States. A boat is required to explore most of the islands, but even on foot, there are several great hikes and lookout points.
19. La Mauricie National Park, QC
Continuing down the St. Lawrence past Montreal, Quebec's largest city, and a short hop inland brings one to La Mauricie National Park in the southern Canadian Shield region. Containing no less than 150 lakes, the park is also home to wood turtles, a little surprise among the usual wildlife such as bears and beavers that are found in so many other Canadian national parks.
20. Forillon National Park, QC
Forillon National Park sits at the point where the St. Lawrence River spills into the Gulf of St. Lawrence in a part of Quebec called the Gaspé Peninsula.
The park's most impressive features are its sand dunes and immense sea cliffs. It is also the site of nesting colonies of many sea birds and whales. Also don't miss the relocated cannon shelter at the Cape Gaspé lighthouse, which commands an unbeatable view over the Gulf of St. Lawrence.
South of the national park, Percé Rock is one of Canada's most recognizable sights and has an enormous natural rock arch.
21. Fundy National Park, NB
Fundy National Park faces the Bay of Fundy, a body of water that separates New Brunswick from Nova Scotia. The bay's claim to fame is that it has the highest tides in the world; twice per day 160 billion tons of water flow into and out of the bay, more than the combined flow of all rivers in the world. This causes the water level at Fundy National Park to rise 16 meters, the height of a five-story building, every day!
Searching for creatures on the sea floor at low tide is one of the best parts of visiting this park, as is enjoying the parks 25 hikes and waterfalls, including UNESCO-protected Third Vault Falls and the popular Dickson Falls trail. The park has also got a heated saltwater swimming pool by the sea.
22. Kouchibouguac National Park, NB
On the east coast of New Brunswick facing Prince Edward Island and the Gulf of St. Lawrence, Kouchibouguac National Park comprises a wide range of landscapes. These include barrier islands, lagoons, salt marshes, and 25 kilometers of sand dunes.
The park is home to a variety of coastal birds, seals, and fisher marten, a small carnivorous mammal. Visitors love Kelly's Beach, one of the most beautiful in Atlantic Canada.
23. Kejimkujik National Park, NS
Nova Scotia, Canada's second smallest province, is home to two fine national parks. The first, Kejimkujik National Park, is located on the mainland part of Nova Scotia, a couple hours west of the provincial capital, Halifax. It is a forested respite perfect for hiking, camping, swimming in lakes, and other outdoor activities.
Kejimkujik is a National Historic Site, protecting ancient petroglyphs, habitations, fishing and hunting sites, and burial grounds of the Mi'kmaq people, who have lived in the area for thousands of years. The park also has a separate coastal section called the Kejimkujik National Park Seaside.
24. Cape Breton Highlands National Park, NS
The first national park in Canada's Atlantic provinces was Cape Breton Highlands National Park on Cape Breton, an island accounting for nearly 20% of Nova Scotia's land. About one-third of the Cabot Trail, considered one of the most scenic coastal drives in the world, runs through Cape Breton Highlands National Park.
Besides taking in epic views of the Cabot Trail winding along dramatic hillsides that plummet to the sea, the park features an abundance of highland hikes in a tundra-like landscape.
25. Prince Edward Island National Park, PEI
Welcome to Canada's smallest province, Prince Edward Islands, and its namesake national park. The long, skinny coastal park is only a few hundred meters wide at some points and faces the Gulf of St. Lawrence.
There one can find numerous beaches and sand dunes, as well as wetlands and saltmarshes that are home to a high concentration of birds, some endangered. The park also has a farm that was the inspiration for Anne of Green Gables, a famous Canadian children's book.
26. Gros Morne National Park, NL
Newfoundland is Canada's easternmost province, largest Atlantic province, and home to three grand national parks. The first and most visited among them is Gros Morne National Park on the island part of Newfoundland facing the Gulf of St. Lawrence. The park encompasses an outlying section of the Appalachian Mountain Range of eastern North America, flat-topped eroded remnants of mountains formed over a billion years ago.
Views of the sheer vertical walls of Western Brook Pond, a freshwater fjord, or looking down on the fjords from atop Gros Morne Mountain's summit, and some of the most epic in all of Canada. The park is a UNESCO World Heritage Site.
27. Terra Nova National Park, NL
Terra Nova National Park is located on the opposite (Atlantic) side of Newfoundland Island, a few hours away from the provincial capital of St. John's, and occupies several inlets on Bonavista Bay. Characterized by boreal forests and rugged, rocky fingers of land jutting out into the sea, the park is prime boating territory.
Terra Nova protects the habitats of numerous birds and marine wildlife. It also has remnants of the now extinct Beothuk culture.
28. Torngat Mountains National Park, NL
The mainland section of Newfoundland, Labrador, has 71% of the province's land but only 6% of its population. There, Torngat Mountains National Park is the largest national park in Atlantic Canada at nearly 10,000 square kilometers. The dramatic beauty of this extremely remote national park is seldom witnessed; visitor numbers are as low as a dozen in some years.
Here the highest mountains in mainland Canada east of the Rockies are found. The subarctic region is the traditional homeland of Inuit peoples, and the park's name is derived from an Inuktitut word meaning "place of spirits."
Arctic National Parks in Canada
For the remaining 10 national parks of Canada, we are heading to the sparsely populated subarctic and arctic region, spread across three territories north of latitude 60°: Nunavut, Northwest Territories, and Yukon.
These national parks are so remote and difficult to reach that, for example, Tuktut Nogait National Park in Northwest Territories recorded zero visitors in the last year, while others are only in the tens or hundreds. These parks are also some of the best places in the world to see northern lights.
I have grouped the parks together by territory because they are the least likely for readers to visit.
29-33. Auyuittuq, Qausuittuq, Quttinirpaaq, Sirmilik, and Ukkusiksalik National Parks, NU
Nunavut became a territory distinct from the Northwest Territories in 1999, making it the youngest of Canada's provinces or territories, and the first new one since 1949. It is a vast region nearly the size of Mexico, and the northernmost in Canada. Most of its population is Inuit, and it is not connected to the rest of Canada by any highway. It has one of the lowest population densities in the world.
Nunavut has some of Canada's youngest (Qausuittuq was most recently created in 2015) and largest national parks (Quttinirpaaq, which protects a polar desert on Ellesmere Island, is Canada's second largest at 37,775 km2).
Nunavut's parks protect immense swaths of arctic and polar land, with oversized fjords, glaciers, arctic deserts, iceberg-filled waters, and polar bear habitats in abundance.
34-35. Aulavik and Tuktut Nogait National Parks, NWT
The Northwest Territories is the second largest territory in Canada and has the largest population among the three of them (still under 50,000). The territory is covered in boreal forest and Arctic tundra, with three national parks; I have already described Wood Buffalo National Park, the largest in Canada, in the Alberta section above.
Aulavik National Park on Banks Island is a vast polar desert that is home to the world's largest concentration of muskoxen. Less than 20 people visited the park in the last year. Meanwhile, literally nobody made it to Tuktuk Nogait National Park in the far north of mainland Northwest Territories.
For the photo above, I've used as image of Nahanni National Park Reserve, which is more accessible as it is in driving distance from British Columbia, since I couldn't even find a stock photo of Aulavik or Tuktuk Nogait National Parks.
36-38. Vuntut, Ivvavik, and Kluane National Parks, YUK
The smallest of Canada's three territories, and adjacent to the American state of Alaska, Yukon boasts three national parks. Vuntut and Ivvavik are in the northwest corner of the territory next to the Arctic National Wildlife Reserve in Alaska. Together they are visited by less than 200 people per year.
Kluane National Park is the most visited park in the Canadian territories by a long shot. The enormous park in the southwestern corner of Yukon has Canada's highest mountain, Mount Logan (5959m), and the largest ice field in the world outside of the polar regions. It is only 100 kilometers from the Gulf of Alaska, with a thin strip of Alaska separating it and Yukon from the sea.
As you can see, Canada's national parks are as immense and varied as the country is huge. Park baggers (those obsessed with "bagging" as many national parks as possible) would struggle to visit all of them in a lifetime. Which Canadian national park will you head to next?