Dear reader: This article contains links to products and services that I may be compensated for, at no extra cost to you.
The Beitou Hot Spring (or Xinbeitou Hot Spring) area is my favorite neighborhood in Taipei City, and I've probably been there over 20 times. In fact, my wife and I went on our first date there after we met in Taipei in 2009!
While hot springs are the focus, meaning you'll definitely want to visit Beitou if you're spending winter in Taipei, there are enough fascinating cultural and historic sights at this Taipei hot springs to justify visiting at any time of the year.
In this article, I'll cover everything you need to know about visiting the most famous of all of Taiwan's hot springs, including its history, things to do there, my hot spring recommendations (public and private), where to eat in Beitou, and more.
Below you'll find some unique information found nowhere else online in English. I was even once hired by Taipei Tourism to proofread all the content for an audio tour they were developing for Beitou! Now, let's get to it.
Tips for Visiting Beitou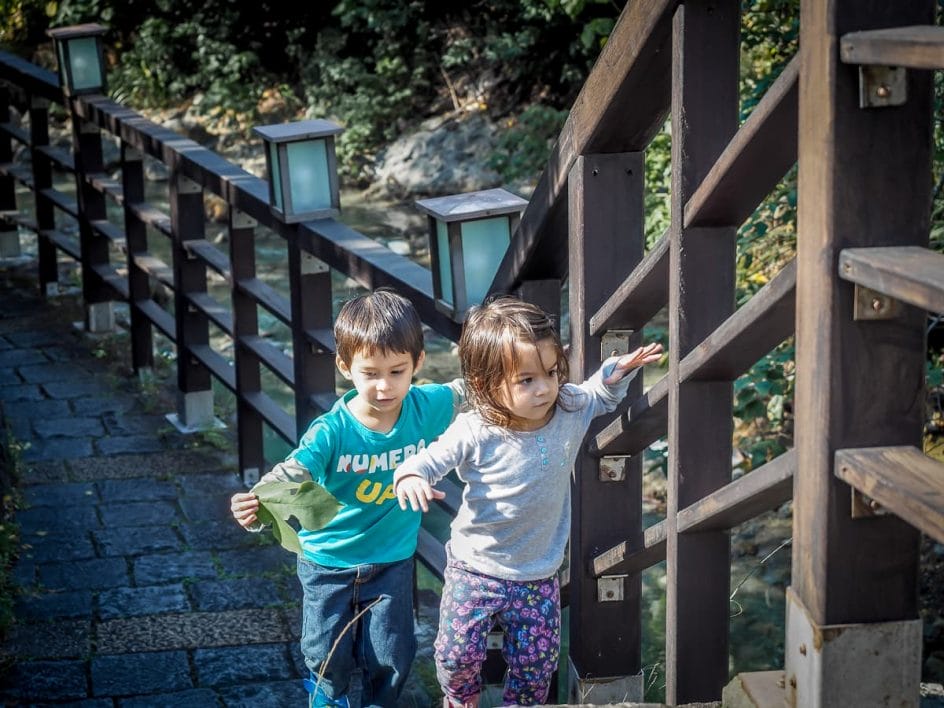 – If you're traveling to Beitou during Chinese New Year, which usually takes place during January or February in Taipei, find out out what will be open or closed in my Taiwan Spring Festival guide.
– Avoid visiting Beitou on Monday, when several things there are closed.
– Beitou Hot Springs are located at Xinbeitou MRT station. You'll have to get to Beitou station first on the red MRT line, then transfer onto the 2-stop pink line to reach Xinbeitou. You may want to consider combining your visit with Tamsui Old Street and Fisherman's Wharf in Tamsui, the terminal stop on the red line.
– You can also find some good deals for Beitou on Klook, such as this highly discounted entry for Spring City Resort, the best mixed-sex/family friendly hot spring in Beitou. Sign up for Klook with this link and a discount will be applied to your first booking.

– Beitou is a great place for a staycation. But it's a little far from the city center, so you may not want to base yourself here for exploring Taipei. See more info in my guide to where to stay in Taipei and the best places to visit in Taipei.
– If you prefer to have a local guide show you around, you can visit the area on this Beitou and Yangmingshan tour. Many people visit Beitou and Yangmingshan on the same day – see my Yangmingshan guide for all the details.
– Beitou is also the starting point of the Beitou-Zhuzihu tourist shuttle bus (S9), which is a great way to explore Yangmingshan, the dormant volcano beside Beitou. Taipei Unlimited Fun Pass holders enjoy free rides on the shuttle bus. Find out more info in my article explaining the Taipei Fun Pass and Tourist Shuttle Buses.
A Short History of Beitou
Beitou (北投) is a district of Taipei City at the foot of Yangmingshan (陽明山 or Yangming Mountain), a collection of mountain peaks that make up Yangminshan National Park. These include Seven Star Mountain (七星山 or Qixingshan), a dormant volcano that last erupted around 700,000 years ago.
Beitou is the only metro-accessible hot spring in Taiwan, which is a godsend for anyone living in Taipei, thanks to the two-station (pink) line connecting Xinbeitou to Beitou station on the Tamsui (red) line. You can already smell the area's hot springs as you are making the transfer. You'll notice the pink line travels really slowly, as it is going uphill toward the base of the mountains.
Xinbeitou (新北投), the hot spring village around Xinbeitou MRT station, occupies a lush valley that is home to 1200 species of plants, 110 species of bird, and 160 varieties of butterflies. Nature truly spills into the city in Beitou.
Although Beitou is part of Taipei City, going there really feels like you've taken a day trip to somewhere far away from the rush of the city center. In fact, I put Beitou in the first spot on my list of the 40 best day trips from Taipei!
The main source of the "white sulfur" hot spring water that is used in most Beitou hot spring establishments today is Liuhuanggu (硫磺谷) and Longfenggu (龍鳳谷) thermal valleys located further uphill in Yangmingshan National Park.
Beitou Thermal Valley (also called Beitou Geothermal Valley or Hell Valley) is a second, highly acidic "green sulfur" hot spring that is a major tourist attraction in Beitou and the source of the hot creek running through Beitou Hot Spring Park.
The spring water is high in radium, which in the past underwent a corrosive reaction with the andesite rocks on the river bed about 150 meters downstream, creating layers of cream and white diamond-shaped crystals named Hokutolite or "Beitou stone", the only mineral in the world to be named after a region of Taiwan.
You can see an 800-kg example of Beitou Stone in the Beitou Hot Spring Museum (see "things to do in Beitou" section below).
A third, "iron sulfur" spring source is located to the east of Beitou around Xingyi Rd. (see "off-the-beaten-track Beitou hot spring recommendations" below).
The Beitou area also produces fine white china clay that is perfect for firing pottery, rushes that can be used for making tatami, and stones that were used in the construction of the Taipei City walls.
Read more about Taiwan's unique aboriginal culture in my articles on Sun Moon Lake and Orchid Island.
The Ketagalan tribe, who originally occupied the Taipei Basin, were aware of Beitou's hot springs but didn't use them. They called the area called "Pataauw," which meant "Residence of the Witch," due to the year-round mist that envelops the valley.
Similarly, later inhabitants of Taiwan did not develop a hot spring culture until the Japanese arrived.
The first outsider to take note of Beitou's hot springs was a German sulfur merchant, who in 1894 built a hot spring club there. The next year Japan took over the island, and quickly realized the high quality and commercial value of the springs.
The first hot spring establishment to be opened was Tenguan Hot Spring Hotel (Tian Gou An天狗庵), near today's Hot Spring Museum (see "Remains of Tenguan Hot Spring" below). Other popular hotels such as Songtaoyuan soon followed.
By the early 1900s, Hokuto (the Japanese name for Beitou) boasted a thriving, upscale hot spring and entertainment scene, complete with geishas, primarily for Japanese are upper class Taiwanese visitors.
Eventually some 70 hot spring establishments were opened, as well a children's amusement park and Shinhokuto train station (see "Old Xinbeitou Station" below).
After the Japanese colonial occupation came to an end and the KMT arrived in Taiwan, the model of Xinbeitou hot spring hotels was preserved, and the area came to be particularly known for prostitution until it was outlawed 1979, after which Beitou went into sharp decline.
In 1995, students and teachers from Beitou Elementary School inspired local residents to create the Taipei Peitou Association and to advocate the preservation of the Beitou Hot Spring Public Bath Pool, originally built in 1913, but left to decay.
By 1998, the historical building was remodeled into the Beitou Hot Spring Museum, kick starting the rejuvenation of Beitou as the popular tourist destination that is has now become.
Most recently, in 2017, the original Xinbeitou Train Station was returned to its original place, now sitting right beside the current Xinbeitou MRT station.
When Is the Best Time to Visit Beitou?
Beitou is fun to visit year round, but the best season for hot springs is surely winter. Usually around October or November the weather starts dropping to hot spring-suitable temperatures. Usually the Beitou Museum holds a hot spring festival and anniversary event around this time to open the hot spring season. Learn more in my guide to Taiwan's festivals.
December through March in Taipei are the coldest, and hence most suitable time to visit hot springs in Beitou.
April, May, June, September, and October can be quite warm in Taipei, but it's still a fine time to visit Beitou, especially for exploring the thermal area and its many attractions rather than actually taking a hot spring bath, but surely it can still be done!
In summer in Taipei, the weather is too hot to really want to soak in hot springs though, and having the steam of Hell Valley (Beitou Thermal Valley) blowing in your face while you're already soaking with sweat isn't ideal. Therefore, if you're visiting in summer and want to experience the hot springs, I would suggest coming in the evening after the sun sets, or trying one of the indoor springs (see my recommendations below.
Find more info in my guide to the best time to visit Taipei.
Things to Do in Beitou
The following things to do in Beitou begin from Xinbeitou MRT station, going uphill toward Yangmingshan. In the next section, I'll list my Beitou public and private hot spring recommendations, and the best Beitou restaurants at the end of the article.
Note that most of the below Beitou attractions are closed on Mondays, so it's best not to visit on that day. And the good news is that most of the below things to do in Xinbeitou are free!
Xinbeitou Historic Station and Qixing Park
The Xinbeitou line was originally opened in 1916 to provide access to Beitou hot springs, branching off from the Tamsui line. At 1.2 kilometers, it is one of the shortest railway lines in Taiwan.
The original Xinbeitou station (新北投車站) was removed to make way for the MRT in 1988, and sold for a symbolic dollar to the Taiwan Folk Village in Changhua county, which later closed down.
The station was returned and fully restored in 2017. It now sits right beside the MRT station on the eastern end of Qixing Park so you can't miss it. The building houses historical displays and there are often craft and fruit stalls set up beside it.
There's also a free hot water bath for your hands in front of the history railway station building.
If you're interested in Japanese-era wooden architecture, also check out the Natural Way Six Arts Cultural Center in Taichung. Learn more in my Taichung itinerary and Taichung City Guide posts.

Another fascinating place with Japanese-era history is Jiufen, an easy day trip from Taipei.
Beitou Hot Springs Park
Across from Xinbeitou MRT station, you'll find the entrance to Beitou Hot Spring Park, which runs up the valley between Zhongshan (中山路) and Guangming (光明路) roads. A hot spring creek, which originates at Beitou Thermal Valley (Hell Valley), runs through the park.
The park is a good place to relax, go for a stroll, and observe the steaming creek. Visitors were once allowed to soak their feet at certain points, but this is no longer permitted. If you'd like to soak your feet in a hot spring pond for free, head to Fuxing Hot Foot Bath (復興公園泡腳池) at Fuxing Park, about five minute's walk north of Xinbeitou MRT station and Beitou Hot Spring Park.
The below nine sights are all situated in or very near Beitou Hot Spring Park.
Ketagalan Culture Center
Built in 2002 on what was once a military police base, the 12-story Ketagalan Culture Center (凱達格蘭文化館) now houses art and cultural items from Taiwan's main recognized aboriginal tribes. It is named after the Ketagalan tribe, who occupied the Beitou area in the past.
Permanent displays and temporary exhibits are on B1, 1st, 2nd, and 3rd floors, and entrance is free (9am to 5pm, closed Mondays).
Beitou Library
The Beitou Public Library (北投圖書館), an official Taipei City library branch, is one of the most visually stunning buildings in Beitou today. Built in 2006, it replaced the original Beitou Library and was the first "green" building in Taiwan to get a diamond from the EEWN, Taiwan's green building certification system.
The structure resembles a wooden ship that has docked in the middle of the park. Made of wood, it pays tribute to Beitou's Japanese history. The library gets 10% of its energy from solar panels and 40% of its water from rainwater that trickles through the layer of soil and plants on the roof.
Natural ventilation and large windows keep the library cool and bright, while lower bookshelves enhance views of the lush greenery outside.
It's worth popping in for a quick look at the large, open interior, but do keep in mind that this is a real library, so you should keep quiet. Photos inside are not allowed (I snuck the photo below from the entrance—shhh!)
If you want to sit and read, there are reading terraces along the side facing the Beitou Creek, where you can observe steam rising.
A good spot to admire the library is from Lotus Pond to the north of the building, along Zhongshan Rd.
Read about my other two favorite neighborhoods in Taipei, Ximending and Dadaocheng.
Remains of Tenguan Hot Spring Hotel
Tenguan Hot Spring Hotel (天狗庵 or Tiangouan), opened in 1896, was the first hot spring hotel in Beitou. It was located across Guangming road from the Beitou Library.
The original Japanese owner later sold it to a Taiwanese man, then in WWII it was used as a treatment facility for wounded soldiers. After the war it was purchased by a Japanese hot spring hotel chain, and eventually closed.
The only remains you can see today are a stone staircase and a few columns, which lie just west of Radium Kagaya International Hotel (日勝生加賀屋國際溫泉飯店), an upscale resort where you'll notice women dressed like geishas greeting arriving guests on the street. You can book a private/public hot spring soak at Radium Kagaya here.
The ruins are marked "天狗庵史蹟公園" on GoogleMaps.
Beitou Hot Spring Museum
If you're at all interested in learning about Beitou's unique ecology, hot spring history, and local culture, a stop at the Beitou Hot Spring Museum (北投溫泉博物館) is a must. The building's handsome exterior is made of brick (first floor) and wood (second floor), complete with stained glass windows, but you really have to enter to fully appreciate it.
On the site of some of the oldest public bathing sheds on the Beitou Creek, the Beitou Public Bathhouse (originally the Hokuto Public Bathhouse) dates to 1913. The bathhouse was one of the largest and most magnificent in East Asia at the time, and played a major role in the rise of Beitou as a recreational village.
After the Japanese left, the building served as a KMT service center and was eventually abandoned. In 1994, students and teachers from Beitou Elementary School petitioned the government to save the building. Taipei Peitou Association took on the task, renovating and remodeling it as a hot spring museum, which was opened to the public in 1998.
Entrance to the museum is free (9am to 5pm, closed Mondays) and you need to check in your shoes at the door. The second floor, where you enter, features a large tatami-covered lounging area, while the main hot spring bath and private bathing rooms occupy the first floor.
There are highly informative displays and fascinating old photos on display, so I'd really recommend budgeting at least half an hour to spend in here during your Beitou visit.
Beitou Public Hot Spring (Millennium Hot Spring)
After you pass the Beitou Hot Spring Museum, you'll reach the large, outdoor Millennium Hot Spring (北投公園露天溫泉), the cheapest and most popular hot spring in Beitou.
See the "Beitou public hot spring recommendations" section below for all the details and history of the hot spring.
Longnice Hot Spring
Opposite the Beitou Public Hot Spring on Guangming Road, Longnice Hot Spring (瀧乃湯) is the oldest continuously running bathhouse in Beitou. In the small yard at the front, there is a historic stone stela commemorating a visit to Beitou by Japanese Crown Prince Hirohito. Taking a soak here is a good way to immerse yourself in Beitou's history in a traditional Japanese bathhouse setting.
See more information about Longnice in the "Beitou public hot spring recommendations" section below.
There's another somewhat historic hot spring hotel near Longnice called Phoenix Pavilion (Feng Hwang Ger Hotel) (book hot spring experience or see on Booking / Agoda / TripAdvisor). Built over 40 years ago, it has an old-time Taiwan vibe and decent, airy private rooms. According to the hotel's website, many Taiwanese films and TV shows have been shot on site. Kids are not allowed.
Plum Garden
Just past Millennium Hot Spring on Zhongshan Road, Plum Garden (北投梅庭) is another building worth a quick look. The small museum is built in the former summer getaway home of Yu Youren (于右任), a famous Chinese scholar, politician, and calligrapher.
The residence overlooks Beitou creek, and the yard is filled with lush vegetation including sweet olive bushes, camphor trees, and plum trees, which bloom in January, just before cherry blossoms.
The bottom floor of the building served as air raid shelter. On the main floor, the friendly attendants eagerly welcome visitors and are more than willing to give you a free tour.
Across Beitou creek from the residence, there's a new hot spring hotel being built that you should keep an eye out for. They were setting up a row of gorgeous cherry blossom trees in front of it that, when in bloom (as they were when I last visited in late February), will only enhance the view from Plum Garden.
Entrance to Plum Garden is free (9am to 5pm, closed Mondays).
Beitou Thermal Valley
Beitou Thermal Valley (also known as Beitou Geothermal Valley or Hell Valley/ 地熱谷), is undoubtedly the most awesome sight in Xinbeitou. The enormous pool of scalding green sulfur spring water gives off sulfuric steam in a manner that is mesmerizingly beautiful, and clouds of steam rising up from it can be seen from far away.
While this spring is the source of Beitou Creek, which runs through Beitou Park, where some of the earliest bathing facilities made use of its waters, none of today's hot spring hotels in Xinbeitou use water from this source.
When I take my kids here, I tell them that we are in dinosaur land, and it really does feel like that. If you visit in summer, the hot winds coming off the pool can be practically overbearing.
For a completely different view, you can see Beitou Thermal Valley from above through the trees on Wenquan (Hot Spring) Road (溫泉路) if you follow it past Puji Temple (see below). Go to this spot to enjoy the view, which you could do on the way to the below three sights and/or Spring City Resort, my most recommended hot spring in Beitou.
Beitou Thermal Valley is free to visit (9am to 5pm, closed Mondays) and there's a little souvenir shop on site.
Puji Temple
Little, wooden Puji Temple (普濟寺) feels like a secret attraction because of the easy-to-miss wooden gate and staircase leading up to it through the woods from Wenquan Road. Puji Temple and two other Beitou temples are included on my list of the top 30 temples in Taipei.
The Japanese-style temple was built in 1905 using donations from Japanese railways employees and honors Avalokiteshvara, the Goddess of Mercy. It belongs to the Shingon sect of Japanese Vajrayana Buddhism, which is headquartered at Koyasan in Japan (read about my experience staying at a temple in Koyasan).
Beitou Museum
Located a ways uphill from the main sights of Beitou and hidden among upscale resorts, Beitou Museum (北投文物館) is well worth the trip. You can walk here in about 15 minutes from Beitou Hot Spring Park and Puji Temple, or take minibus #25 from this bus stop in front of Quan Du Hotel (泉都溫泉飯店) near Xinbeitou MRT station. It is just past Spring City Resort, which is my most recommended hot spring in Beitou.
One of the best preserved wooden Japanese buildings in Taiwan, the Beitou Museum was built in 1921 as the Kazan Hot Spring Hotel and was later used as lodging for Kamikaze pilots during World War II.
The museum houses rotating exhibits on Japanese culture in Taiwan, aboriginal culture (including a beautiful replica of a Tao canoe from Orchid Island), and more. On the second floor, you can see a large Japanese-style banquet hall that would make a good wedding venue!
Besides exploring the various rooms and internal courtyards of this elegant home, the highlight of visiting for us was the artfully presented, multi-course vegetarian kaiseki meal that we enjoyed in the museum's restaurant. See the details and pictures in the "Beitou restaurants" section at the end of the article.
Beitou Museum is open 10am to 6pm (closed Mondays) and tickets cost NT120 (adult), 50 (students or 65+), under 6 free. There are free guided tours at 11am and 2:30pm (weekends or holidays) and free audio guides for rent.
Marshall Zen Garden
If you made it up as far as the Beitou Museum, you might as well go a few steps further to Marshall Zen Garden (少帥禪園), also commanding a fine view over Beitou. Marshall Zen offers these bathing + fine dining packages.
Like the Beitou Museum, the beautifully restored complex was a lavish hot spring hotel during Japanese times, the Xin Gao Hotel, and it was also used to Japanese Kamikaze pilots, supposedly before their suicide operations. Later it was used for the house arrest of Chinese General Zhang Xueliang, and finally converted to a zen garden in 1984.
The upscale restaurant here serves set meals with dishes supposedly popularized by the General and his wife, while the private hot springs rooms are some of the best and most atmospheric in all of Beitou.
Note that there is a cover charge of TWD200 per person to enter the grounds if you haven't booked a package (personally, I would choose the Beitou Museum if you only visit one of these two places), or a minimum charge of 450 per person (which covers a drink and a snack) in the tea house.
Sulfur Valley Recreation Area
If you want to see where most Beitou hot spring hotels get their hot spring water from, you can travel further up Quanyuan Road (泉源路) from Marshall Zen Garden to Sulfur Valley Recreation Area (硫磺谷遊憩區) and Longfengu Valley (龍鳳谷). It's a little far to walk, so you'd need to take a bus.
Sulfur Valley is the more photogenic of the two, with various lookout points over the steaming lake and rocks, as well as geysers spewing water and steam. You get a real sense that you standing inside a volcanic crater.
If you want to visit by public transportation, you can take minibus #7 or minibus #9 from Beitou Park bus stop (right in front of the park across from Xinbeitou MRT) to Mituo Temple (彌陀寺, about 6 minutes), from where it's a short walk.
For something even more dramatic, you can travel further into Yangmingshan National Park and hike to the fumaroles at Xiaoyoukeng. See more info in my guide to Taipei's top hikes.
My Beitou Hot Spring Recommendations
There are 20+ hot spring hotels and bath houses in the Xinbeitou hot spring area, and pretty much all of them offer private hot spring rooms (湯屋), while only some of them offer shared or "public" baths (大眾湯).
Rates for private hot spring rooms range from NT400 to NT3000+ for 60-120 minutes (2 people), but most hotels charge around 1000-1500, and some have deals that include a meal in their restaurant after you soak. Cheaper rooms tend to be small, windowless caverns with stone or tile tubs (see photo above), while more money generally gets you a modern hotel-like room that often includes a bed and sometimes even a view.
Generally speaking, Beitou's hot springs are more expensive than elsewhere in Taiwan, but you pay for the proximity to the city. Some of them raise their prices for private rooms on weekends.
Public hot springs in Beitou come in two varieties: Japanese-style (sex segregated and nude) and Taiwanese/Western style (mixed sex with bathing suits and swimming hats required). They range in price from 40NT (Beitou Pubic Hot Spring) to nearly TWD 2000 at the fanciest resorts.
Across from the Xinbeitou MRT station, either side of Hot Spring Park is lined with modern hot spring hotels, with a few traditional choices. Further up from the park, narrow Wen Quan (Hot Spring) Road leads up to a number of large, upscale resorts and one traditional choice overlooking Beitou.
–The most famous hot spring spa in the greater Yangmingshan area is Tienlai Resort, but it requires a 1-hour bus ride from Taipei to get there. It is not MRT accessible like the resorts in Beitou.

– For even more hot springs, head to Jiaoxi Hot Spring in Yilan County, Wulai Hot Spring in New Taipei City, or Taian Hot Spring in Miaoli

– For a more remote hot spring experience in Taiwan, check out my article on secret Wenshan Hot Spring in Taroko Gorge.

– For something truly unique, try bathing in thermal mud at Guanziling, Tainan
Best Public (Mixed Sex) Hot Springs
There are only two public, mixed-sex hot springs in Beitou that I know of. The first one is the cheapest and easiest to reach, so many travelers go here. The second one is better for families and has a better view, but it is more expensive and further from Xinbeitou MRT.
Beitou Public Hot Spring
Beitou Public Hot Spring (formerly "Millennium Hot Spring") is the cheapest and most popular public hot spring facility in Beitou today. It was named after the fact that it was opened to the public in December 1999, around the time the Beitou Hot Spring Museum was being restored. It is located at the upper end of Beitou Hot Spring Park, about 8 minutes walk (slightly uphill) from Xinbeitou MRT station.
The 1000m-square open-air complex includes three hot pools ranging from warm to scalding and two ice-cold ones. It tends to be quite crowded. Note that it is closed at intervals every day for cleaning. The opening times are usually 5:30am–7:30am, 8am–10am, 10:30am-1pm, 1:30pm–4pm, 4:30pm–7pm, and 7:30pm –10:00pm.
Entrance is only TWD 60. Towels are not provided, and showers are cold unless you insert a 10NT coin. Swimming caps are required and they sell them if you don't have one. There are coin lockers available or you can just stash your clothing on a shelf.
Children are loosely tolerated. You might have to try to convince them to let your kids in like I did, and they may or may not let you. Honestly, if you're visiting with kids, the below option is much better.
Spring City Resort
If you're willing to spend more money and travel further from the MRT, the outdoor public spring facility at Spring City Resort is without a doubt the best public hot spring in Beitou. It is also the best for visitors with kids, but great for adults too.
The outdoor facility includes a shallow warm pool and a large cold pool for kids, as well as eight hot pools with bubbles and jets. The pools are surrounded by verdant vegetation and there's a lovely view looking down on Beitou. Lockers, robes, sandals, towels, soap/shampoo and hair driers are all provided.
There is an amazing deal for Spring City here on Klook. You get around 50% off the regular entrance fee! Children under 110cm are free, and 110-140-cm can buy a children's ticket at the door. They provide a locker, drinking water, Japanese robe, towel, flip-flops, soap, shampoo, and plastic swimming cap. There's also the option to add a meal after you soak for quite a bit cheaper than what you would pay there.
The hotel also has private hot spring rooms. The basic ones that we tried were very basic (small, no window), while the upscale (and much pricier rooms) look fancier.
There is a free shuttle bus to and from Xinbeitou and Beitou MRT stations. We've actually walked all the way from Xinbeitou MRT (about 30 minutes), but it was a little tough with kids. The Beitou Museum (see below) is only a few minutes further uphill from Spring City Resort.
If you want to spend the night, here are the reviews / prices on Booking / Agoda.
Best Public (Nude) Hot Springs
If you want a traditional, Japanese-style hot spring experience, you'll need to get neked. Men and women are of course separate. As per the custom, you'll need to shower thoroughly before going in.
Again, the options range from cheap and basic to fancy and expensive.
Historic Longnice Hot Spring
Longnice Hot Spring (瀧乃湯) is the oldest continuously operating bathhouse in Beitou and the best hot spring in Beitou if you are looking for a traditional but cheap experience. It was built in 1913 and originally called Tanglong Bath Pool, named after the waterfall in the hot spring creek right in front of it. Private bathing pools were added 70 years ago, and more recently a women's section.
In front of the building there is a historic stone stela commemorating a visit to Beitou by Crown Prince Hirohito (soon to be emperor of Japan). See here for more details about his visit and the history of Long Nice Hot Spring, or more photos on the official website.
Each side features two scalding hot stone pools (one 42-44 and the other 43-46°C) under a wooden roof. Entrance is 150 per person. A locker is provided, but no soap, towels, or water.
Longnice also offers some of the cheapest private bathing rooms that I know of in Beitou: NT400 (2-person small room) and NT600 (2 person large room, add 50NT per additional person up to 5 people). Private rooms are only open noon to 6 pm.
Upscale Choices
The following large resorts offer more upscale nude bathing experiences. All three include the choice to add a discounted meal after your soal.
Some of the larger resorts in Beitou, like Villa 32, Grand View Resort, and Asia Pacific, have some of the classiest (and most expensive) public nude springs in Beitou. They also offer massage and spa treatments. These are quite expensive, so consider staying overnight at the hotel, which will give you free access to the hot springs.
Kawayu Spa (Off-the-Beaten Track)
If you want to escape the tourist crowds at Xinbeitou Hot Spring, there's a small cluster of hot spring hotels in Beitou District on Xingyi Road (行義路) that very few tourists know about, and are slightly cheaper for what you get. Even though it's technically in Beitou district, it's in a totally different area that you can only reach by bus.
Kawayu Spa (川湯溫泉養生餐廳) has one of the most atmospheric bath house exteriors I've seen in Taiwan. From the parking lot, you descent a long staircase, upon which the walking path divides the two sections of the building. It has a "Spirited Away" feel to it, just as Jiufen famously does.
Kawayu's public bath (NT200) is pretty simple, but the overall experience of visiting this facility, and perhaps dining there after, is what really makes it. There are also private rooms, but they are small cement rooms with no windows.
To get there, take bus 508 or 535 from Shipai MRT station and get off at Xingyi Road 3 stop (行義路站三), or take a taxi (approximately NT200).
Find more lesser-known hot springs and places to visit in my Taipei off-the-beaten-path guide!
Beitou Private Hot Spring Room Recommendations
Almost every hotel in the Beitou area offers rooms with private hot spring rooms that you can typically use for 60 to 120 minutes.
Most of the hotels are on either side of Beitou Park. The quality, age of the hotel, and prices vary a lot. Most places have higher prices on weekends and holidays. You can always see pictures of the rooms at the front desk before you decide.
Best Value
JBG Hot Spring Hotel Resort (see on Booking / Agoda) has one of the best value options in the area. They offers private a room for 2 hours for around TWD 1000 (weekdays only). Afternoon tea after you soak is also included if you visit between 2 and 8 pm!
They even allow one child (under 100 com) for no additional charge. Some rooms have a view of Beitou Hot Spring Park. You can book your soak here.
If you are willing to walk a little further, Kyoto Spring Hotel near Puji Temple is a small Japanese-style hot spring hotel has the best low-budget private hot spring rooms in Beitou. It's located on Wenquan Road, just past the entrance to Puji Temple, about 15 minutes walk from Xinbeitou MRT (slightly uphill).
The cheapest room is only NT500 for 90 minutes, but we love the NT720 rooms, which include a large, modern style (not stone) tub and window. This is the cheapest deal we've found in Beitou for a room that isn't a windowless cavern. It is also a decent budget choice if you want to spend the night in Beitou (see on Booking / Agoda / TripAdvisor).
Historic and Atmospheric
Marshall Zen Garden (少帥禪園) offers some of the most atmospheric private hot spring rooms in Beitou. These package deals include set meal or afternoon tea. It's located about 30 minutes walk uphill from Xinbeitou MRT, near Beitou Museum. You can catch minibus #25 from this bus stop in front of Quan Du Hot Spring Hotel (泉都溫泉飯店) to Beitou Museum (北投博物館) stop.
The private hot spring rooms come with fine views over Beitou, Guanyin Mountain, and the Guandu Plain (consider visiting in the evening!) While the rooms themselves are fairly simple, the chance to explore the grounds makes the visit worth it and dine in such at atmospheric setting make it worth it!
Phoenix Pavillion is another option that isn't so far from the MRT and has this private soak deal. The spa is historic and has been featured in Taiwanese films. Note that kids are allowed.
Mid-Range
Radium Kagaya (see on Booking / Agoda) is one of the most famous hot spring hotels in Beitou. You can't miss it, as there is often a group of women dressed as geishas welcoming guests out front. It is conveniently located beside Beitou Hot Spring Park, only 5 minutes' walk from Xinbeitou MRT. You can book a private hot spring room (or public nude soak) here.
Waterhouse (see on Booking / Agoda / Klook) offers a variety of private hot spring rooms in the mid-range price category, as well as a public (nude) option. It is also quite convenient located beside Beitou Hot Spring Park, just a little further away from the MRT from Radium Kagaya.
This is a newer hotel (unlike some of the really old ones in Beitou), so I highly recommend it. It is called 享溫泉 on GoogleMaps.
Classiest Choices
Gaia Hotel is one of the more luxurious hot spring resorts in Beitou. Make sure to visit the hotel's photogenic library with over 20,000 books arranged up the walls when you visit. You can book a private or public (nude, sex segregated) hot spring soak at Gaia Hotel here.
Some of the larger resorts in Beitou, like Villa 32, Grand View Resort, and Asia Pacific, have some of the classiest (and most expensive) private hot spring rooms in Beitou. They also offer massage and spa treatments. Reservations are usually needed, including for private hot spring room.
Off the Beaten Track
Yuse Spa (湯瀨溫泉SPA) is one of the first establishments you'll notice when you arrive in the Xingyi Road hot spring area because the black wooden exterior makes it look like a haunted house. There is a range of private rooms, and we always take advantage of the deal that includes money towards a meal in the Japanese restaurant on site.
Kawayu Spa (川湯溫泉) is the most atmospheric spa up there (just have a wander though to see it!) But their private rooms are tiny cement boxes.
For info on getting there, see the previous section, where I also mentioned Kawayu.
Best Beitou Hot Spring Hotels for Staying Overnight
Best Budget Hotel
The cheapest hotel that I know of in Beitou is Kyoto Spring Hotel (see on Booking / Agoda / TripAdvisor), and the rooms come with private hot spring tubs. It's in a quiet but convenient location on Wen Quan (Hot Spring) Road.
A Fun Choice
Quandu/Chyuan Du Hot Spring Hotel (泉都溫泉會館) (see on Booking / Agoda / TripAdvisor) is right by Xinbeitou MRT station. We stayed here once and our room included not only our own private bath but also a sauna, plus a free Wii Video Game system rental (only included in some rooms)!
Upscale Beitou Hot Spring Resorts
Beitou Hot Spring Resort (see on Booking / Agoda / TripAdvisor): A good medium-range choice very close to Xinbeitou MRT.
Asia Pacific Hotel Beitou (see on Booking / Agoda / TripAdvisor): A full range of facilities and Western or Japanese style rooms overlooking Beitou. This huge resort offers the ideal getaway and is very family-friendly.
Grand View Resort Hotel Beitou (see on Booking / Agoda / Klook / TripAdvisor): Sleek, ultra-modern Japanese-style, and built of grey stone, this is one of Beitou's most elite choices and is located just up the road from Asia Pacific, right before the Beitou Museum, which means is also has great views over Beitou.
Villa 32 (see on Booking / Agoda / TripAdvisor): The most exclusive property in Beitou, hidden away right beside Beitou Thermal Valley (see below). Once chosen as one of the world's best newly rising hotels, the grounds are crafted like a tranquil and lush work of art. Under 16 not allowed. It is one of the most expensive hotels in Taiwan.
Best Beitou Restaurants
Most people don't come to Beitou specifically to eat, but you may very well spend enough time in Beitou that you'll want to, and there are actually several restaurants here that are worth the trip. Unsurprisingly, most of them center on Japanese fare rather than typical Taiwanese food. Here's where to eat in Beitou:
Budget Restaurants in Beitou
Hot Spring Ramen and Eggs
The two most popular restaurants around Beitou Hot Spring Park are both hot spring ramen shops: Man Lai Hot Spring Ramen (满来温泉拉麵) near Xinbeitou MRT and Mankewu Taiwanese Style Ramen (滿客屋台式拉麵) near Puji Temple. Both offer similar menus featuring a variety of ramen, hot spring eggs, hot spring tofu, etc., and while both usually have a line, it moves fast.
We've only ever tried Mankewu, and found their hot spring eggs (almost totally uncooked and served with toppings) particularly delicious. Their noodles taste homemade and are very delicious, but don't expect very authentic Japanese ramen.
Also, despite what I initially though, they don't actually cook the ramen in hot spring water. It's just called hot spring ramen due to the fact that you eat it in a hot spring area (according to one of the restaurants, when I asked). But still, have a hot bowl of these delicious noodles feels like part of the hot spring experience.
Other budget options
At the entrance to the small road that leads from Beitou Hot Spring Park to Beitou Geothermal Valley, there is a simple noodle shop, convenience store, and usually a few stalls selling sausages and hot spring eggs (hard boiled with gooey center).
If you don't want to wait in the line at one of the hot spring ramen shops, there's always Sushi Express on the corner opposite Xinbeitou MRT, beside the 7-11.
There's also an odd-looking Japanized Western food restaurant called Spring is Home (春乃家洋食館) on Guangming road near the Beitou Library.
For other unique food in Taipei, see Burma Street food tour and my food guide to Ximending!
Atmospheric Dining in Historic Japanese Houses
There are two historic houses I described above, Beitou Museum and Marshall Zen Garden, where you can enjoy artfully prepared Japanese meals in a gorgeous, old-time Japanese setting.
We recently tried the multi-course vegetarian kaiseki meal (NT880 + 10% service charge) at the Beitou Museum and loved it. All the dishes were picture-worthy, and the baked eggplant with teriyaki sauce was to-die-for. There were meat/seafood set meals as well, and we showed up on a weekend without a reservation.
The restaurant is open 10am to 5:30pm (closed Mondays) and afternoon tea is also available. The restaurant and museum staff were particularly friendly during our visit and we would highly recommend it.
We haven't tried it, but a similar dining experience can be enjoyed just up the road at Marshall Zen Garden. With a similar atmosphere but more upscale than Beitou Museum, the vegetarian or seafood-heavy set meals range from NT1800 to 2800 plus tea fee and service charge.
Some of the dishes were supposedly popularized by the Chinese General and his wife who were under house arrest here for years, and the chefs incorporate zen philosophy in their cuisine and presentation.
Hot Spring + Meal Packages
Several hot spring deals also include a meal at the hotel's restaurant. These include the following:
Spring City Resort: You can choose the option of adding a meal in their Japanese restaurant for much cheaper than purchasing on site. Best choice for families.
Gaia Hotel: You get the option of adding lunch, afternoon tea, or dinner
Waterhouse: Afternoon tea is included if you visit on a weekday between 2 and 8 pm. Great deal!
Well, that brings us to the end of this Beitou Hot Spring blog. I hope you've found all the information you needed and more about these fascinating Taipei hot springs. If I've missed anything or you've found information that is wrong, please let me know in the comments below!